Stage Set For Show Of Strength By BJP & BJD In Odisha Today
Bhubaneswar: The Odisha capital is all set to witness a high-voltage political face-off on Thursday with BJP national president JP Nadda and BJD president Naveen Patnaik scheduled to address partymen at public meetings.
Nadda, who is arriving in Odisha on a two-day visit on Thursday, is likely to sound the poll bugle for 2024 while addressing 30,000 Shakti Kendra (booth level organisation) workers at Janata Maidan here after taking part in a roadshow from the airport to the meeting venue.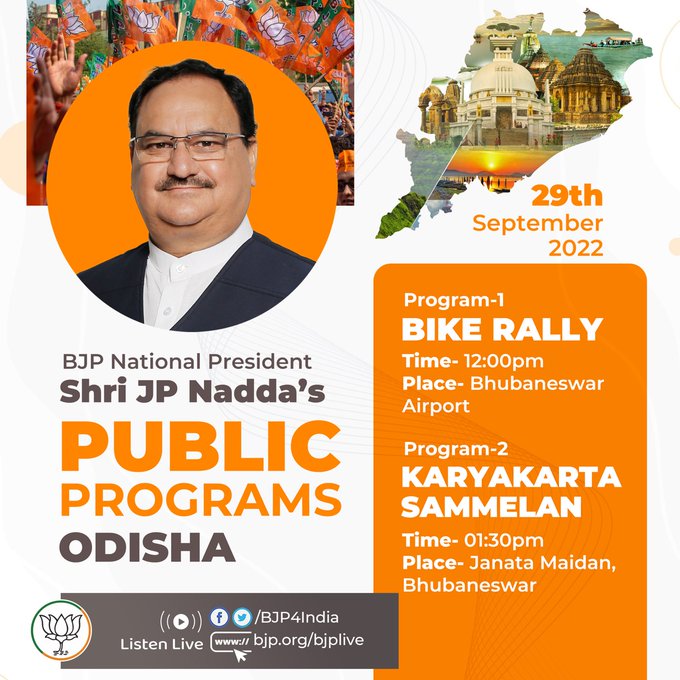 "He will reach Bhubaneswar at 10 am and from there, he will be escorted to the party state headquarters in a procession. He will attend a panchayat-level conference at Janata Maidan the same day," BJP general secretary Golak Mohapatra had told the media.
Also Read: J P Nadda's 2-Day Odisha Visit: Check Traffic Advisory From 10AM To 4PM In Bhubaneswar
He will discuss party affairs with MLAs, MPs and other leaders at BJP headquarters here, before leaving for Puri. After overnight stay in the pilgrim town, the BJP chief will pay obeisance at Jagannath Temple. He will then meet the family members of late BJP leader Bishnu Sethi in Bhadrak.
Nadda will then return to Janata Maidan in Bhubaneswar again to address members of several Morchas of the party and leave for Delhi after meeting the core team of the Odisha BJP at the party office.
Though Naveen, who is in Bengaluru, is unlikely to attend the two-day organisation meeting of the BJD's regional party, he will be addressing party leaders and workers at Baramunda ground here via video conference. During the two-day interactive session, the regional party will discuss the future roadmap and deliberate on the annual month-long Jan Sampark padayatra, starting October 2.
Also Read: BJD Supremo Naveen Patnaik Unlikely To Attend Party Meet In Bhubaneswar Today
Coincidentally, Congress is also likely to draw plans for the Bharat Jodo Yatra to commence in Odisha from the Indira Gandhi Park in Bhubaneswar from October 31 for a period of 100 days. Odisha Pradesh Congress Committee (OPCC) president Sarat Patttanyak is expected to spell out the routes of the party's localised campaign.
These political activities are significant considering that the three major political parties in the state are making efforts to strengthen the party apparatus with an eye on the 2024 elections.
Almost a month after Union Home Minister and BJP chief strategist Amit Shah's assertion that BJP would oust the BJD and form government in Odisha in 2024,  the BJD had organised a grand welcome for Naveen on his arrival from New Delhi after receiving the Lifetime Achievement Award by the Capital Foundation Society for outstanding leadership.
As the BJD president took out a rally with around 50,000 people cheering for him from Biju Patnaik International Airport to Naveen Niwas, Bansal took stock of the saffron party situation in the state and announced Nadda's two-day visit to Odisha. The BJP leaders, especially their women leaders, also marched to Raj Bhavan highlighting the failures of the BJD government.