If places can intoxicate, Zuluk can create an unending hangover. While tourists around us were planning to go to the much-hyped Lachung, Pelling and Kalimpong, we settled for the less-talked-about Zuluk. The name fascinated us (my husband and me). Travelling on a winding, hilly road with scenic beauty on either side was not a new experience for me. I had witnessed it on my way to Mandi, Manali and Mussourie. However, on the way from Gangtok to Zuluk, the archways of greenery (amid lush green jungles and mountain terrains) forming canopy-like driveways was enchanting! It felt like the place was welcoming us much the same way like a decorative gate at a wedding. Rain-drenched streets always make me nostalgic of childhood days at Cuttack when I went to school in a rickshaw and extended my palm outside to feel the drops of water from heaven. The school prayer: "Mercy drops round us are falling, but for the showers we plead…" still reverberates in the heart and soul.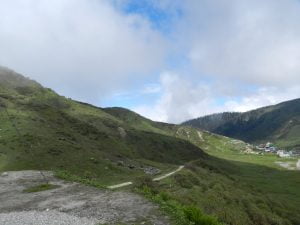 Mid-way at a place called Rangli, the mobile phone signals go off- an indication to ascend to nature's lap without any distraction. I remember the sign post that said: "Your facebook status update can wait"! We set ahead to form that uninhibited, focused rapport with nature. In an age where almost everyone feels the urge to peep into their mobile phones every 5 mins, the connection lost with technology made us more connected to nature.
Ahead of Rangli, we stopped at 'Lonely Waterfalls'. The name suits the fall because it was a narrow stream, aloof in a lonely corner on the way. One could hardly hear the sound of its fall too. Hardly, people noticed it or stopped by it, unlike the 'Que Khola falls' at Nimachen (East Sikkim) that enticed most of the crowd.
Reaching our destination, I was stupefied to see the mighty mountain facing the balcony of our homestay. I had never seen a mountain so close. Mountains make you feel so puny. As I found it difficult to climb up to the rocky, uneven stairs leading to the homestay rooms, the owner Ms.Chhun Chhun gave me a warm, carefree laughter. It was an instant welcome. She told us that all the four rooms were for that day uninhabited and we could choose any of the one to stay. Her manner of interacting was casual and nonchalant. All the rooms were the same but with a different combination of colours on the walls. We finally chose the room with the pink walls and sky blue net curtains.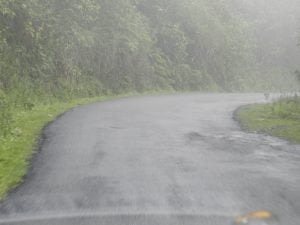 Around 3-4 mountain dogs roamed around in the premises of the homestay. Most of them were healthy and fluffy. I am petrified when it comes to dogs; however, Tommy seemed more docile than dogs back home. He didn't even bark at guests. Mentally, I contrasted the aggression of our pet Doberman Alex and the fox-faced Messy. It seemed nature had calmed the senses of Tommy and his friends too.
As the evening dawned, rain started showering, and the view from our homestay became more exquisite. We enjoyed garam chai and alu-piyaz pakoras. Enjoying the rain at 10000 feet altitude with hot pakoras is an unforgettable savoury delight!
Light spells gave away to heavy showers as the evening progressed to night, and it became darker. No television and mobile coverage led us to spend some quality time reading in our rooms with double blankets, jackets and caps to protect ourselves from the chill in the air. The floor was ice-cold, and so was the water in the washroom. Gentle breeze was blowing outside our room. We admired the green mountain-view along with a small 'Shivji ka mandir' near it. But we could not go there because of heavy rain and the lack of street lights. It had stated pouring heavily. Load shedding was common here, and sometimes the absolute darkness led the mind to a tranquillity unparalleled.
The locals were friendly. We spent some time with them, admiring their neat kitchen and friendly demeanour. We befriended our Nepali driver Govind and he started sharing his experience of eloping with his wife at the age of 19. We were shocked! But he explained that it was a common practice there- to meet a girl and if you like each other, the boy to run away with her. Hardly 5 per cent of the people here succumbed to an arranged match.
Evidently, a lot of Western influence here. Quick marriages and quicker divorces, and subsequent more remarriages! People were carefree, happy and liberated here, like the mountain breeze that blew in any direction it wished.
On our way to Gnathang Valley viewpoint at a higher altitude than Zuluk, we shivered and goose pimples stretched our skin. But the view was breathtaking and it was completely worth bearing the cold temperature. Misty winds touched our bodies and partially eclipsed our vision. We could admire the various hued rhododendrons on the valley.
However, we were informed by Govind that the months from February to March could give a more exquisite view of the valley as it would be snow-capped and on it would sprout the beautiful rhododendrons!
Best time to visit
February-May
June-August is best avoided for landslides
Nov-Jan should be avoided because of excessive cold
How to reach
Reach Bagdogra airport
Direct from Bagdogra to Zuluk by cab will take approx. 4 hours.
Alternatively, one can go from Bagdogra to Gangtok- that will take 3 hrs by cab. And from Gangtok to Zuluk by cab will take approx 2.5 hours.
Things/places to see/nearby places
Mountains and scenic beauty at Zuluk
Zig-zag point, Baba mandir, Nathang valley, Thambi view point
Aritar Lake few hours away from Zuluk (approx 1.5 hours)
Best places to stay
Mostly home stays; very few hotels/resorts can be found in Zuluk
Best experience to stay with local people in home stays
Home stays need prior booking, especially during peak season