This Year, Odisha's Eco Retreat To Feature Two New Destinations; Booking Starts Tomorrow
Bhubaneswar: This year, Eco Retreat will feature two new destinations. Tourists will have the option to explore Odisha's southernmost beach, Pati-Sonapur, and a hill station named Putsil in Koraput.
According to Odisha Tourism, the glamping event will be held in a much bigger and better way this year. The packages will have on offer enchanting beaches to amazing wildlife areas.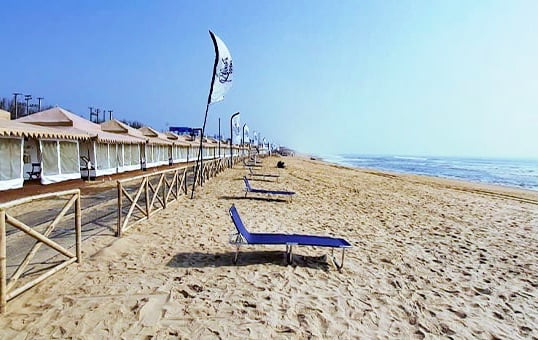 The glamping extravaganza is being organised in seven exotic locations. These locations include Konark, Pati-Sonapur, Bhitarkanika, adventure getaway to Hirakud and Satkosia and a relaxing trip to quaint hill stations of Daringbadi and Koraput. Bookings will commence from November 20.
#EcoRetreat returns to India's best kept secret! Odisha is back with its signature glamping event. The exotic #Hirakud is one amongst the 7 breathtaking locations this year.

Booking starts from November 20.

Watch this space for further updates. #OdishaTourism pic.twitter.com/kOFY7rqjRX

— Odisha Tourism (@odisha_tourism) November 19, 2021
Tourists can visit ecoretreat.odishatourism.gov.in for more details.
They will get to experience staying at luxury tents, delicious cuisines, water sports, adventure activities, guided tours and cultural events, besides the picturesque settings.
"We will shortly announce the dates for the eco retreat. It is aimed at not just bringing tourists but investors as well. The eco retreat is a luxurious offering targeting high-spending tourists. This year, the arrangements will be more representative than last year," said Tourism Director Sachin Ramchandra Jadhav.

He further said that the repose was overwhelming despite the COVID pandemic last year. "Thus, we decided to expand it this year to more locations. In the sea beach category, we will cover Pati Sonarpur, Konark and Pentha beach of Bhitarkanika. In the hilly areas, it will feature Putsil in Deomali and Daringbadi. For water bodies, we have Satkosia Gorge and Hirakund water reservoir," he said.
The Tourism department is also planning to work closely with the Forest Department to develop more eco-tourism sites in the state, he added.
(Pictures Courtesy: Odisha Tourism, Eco Retreat, Odisha)