Train derailed: Labour crisis makes restoration work difficult
Cuttack: The track restoration work near Nergundi station, where 16 wagons of a goods train had derailed on Wednesday morning affecting traffic on the route, is going on in full swing.
According to East Coast Railway (ECoR) sources, 10 wagons have already been re-railed or thrown out of track. The work is continuing without any interruption since last night despite inclement weather conditions. Three wagons are being tackled right now.
On the other hand, the ECoR is facing labour crisis due to Puja holiday. This is crucial since handling of bagged consignments is always a tricky affair requiring trained labour. Officials at site are still trying their level best to manage with the available resources, the sources said.
To overcome labour crisis, roof of a wagon was cut off and toppled upside down to drop the consignment before being thrown off the track. Two fully loaded wagons are still to be handled as these are piled under other wagons. While one line was cleared yesterday, efforts are on to make the second line operational late this night, the sources added.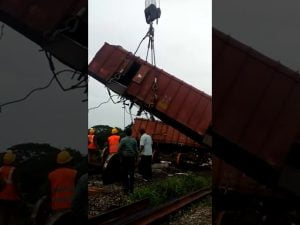 The fertiliser-laden goods train was headed to Haibargaon (HBN) of North Frontier Railways from Gangavaram Port in Visakhapatnam when the mishap took place. Earlier, a crane was used to lift the derailed wagons after manually unloading the bags of fertilisers these were carrying.