'Truth Shall Prevail': Aparajita Sarangi Hails NMA Nod With Changes To Puri Heritage Corridor Project
Bhubaneswar: Parliamentarian Aparajita Sarangi on Wednesday thanked the National Monuments Authority (NMA) for asking the Odisha government to shift the site for construction of the reception centre of the Shree Mandira Parikrama (Puri heritage corridor) out of the 'prohibited zone.'
The Lok Sabha member from Bhubaneswar said an agitation was launched asking the state government to follow the provisions of the Ancient Monuments and Archaeological Sites and Remains (AMSAR) Act, 1958, while implementing the heritage corridor project near Jagannath Temple in Puri. "We also took out a march to Puri to demand that no construction activities are taken up within the prohibited zone of 11th-century shrine as we love our culture and heritage but the government paid no heed to it," she said.
"Now the NMA's recommendation has only endorsed the views expressed by us … truth shall always prevail," the BJP leader said, adding that all new structures should be allowed beyond 100 metres from the main temple.
Following the state-wide stir, the NMA and the Archaeological Survey of India (ASI) had asked the state government to submit a revised detailed project report (DPR) for the ambitious heritage corridor, Aparjita stressed.
The Shree Jagannath Temple Administration (SJTA) and Odisha Bridge and Construction Corporation (OBCC) submitted their revised DPR which was thoroughly examined by the NMA before it gave its NOC.
As per the no objection certificate (NOC) given by the NMA, the reception centre will now come up in the regulated zone of the 12th-century shrine. Initially, it was proposed in the prohibited zone. "A 'special agenda' meeting was held in New Delhi on September 9, where it was recommended that the reception centre may come up in the regulated zone at a distance of 101.5 metres from the main temple with a height limit of 7.5 metres as a G+1 structure," she said.
Originally, the reception centre was proposed over 7,917 sq metres as a G+2 structure.
She further said that the government want to construct information-cum-donation kiosk, first-aid centre, police service centre, ATM kiosk and shelter pavilion in the prohibited zone.  The NMA has recommended that none of these can come up in the prohibited area and have to be built 100 metres from the temple and these points are available in their proceedings.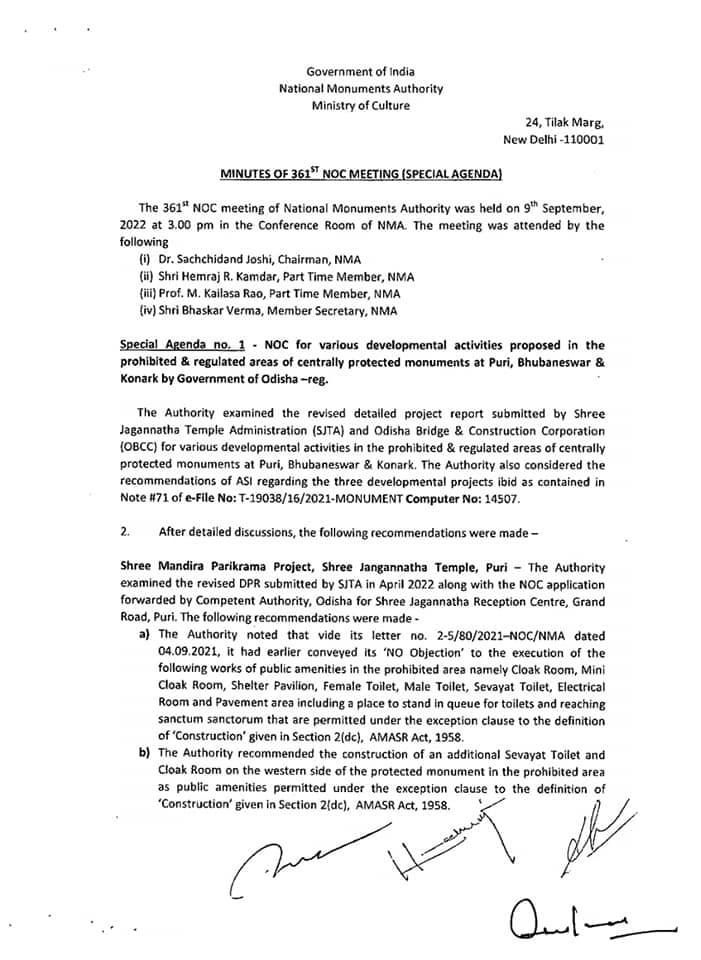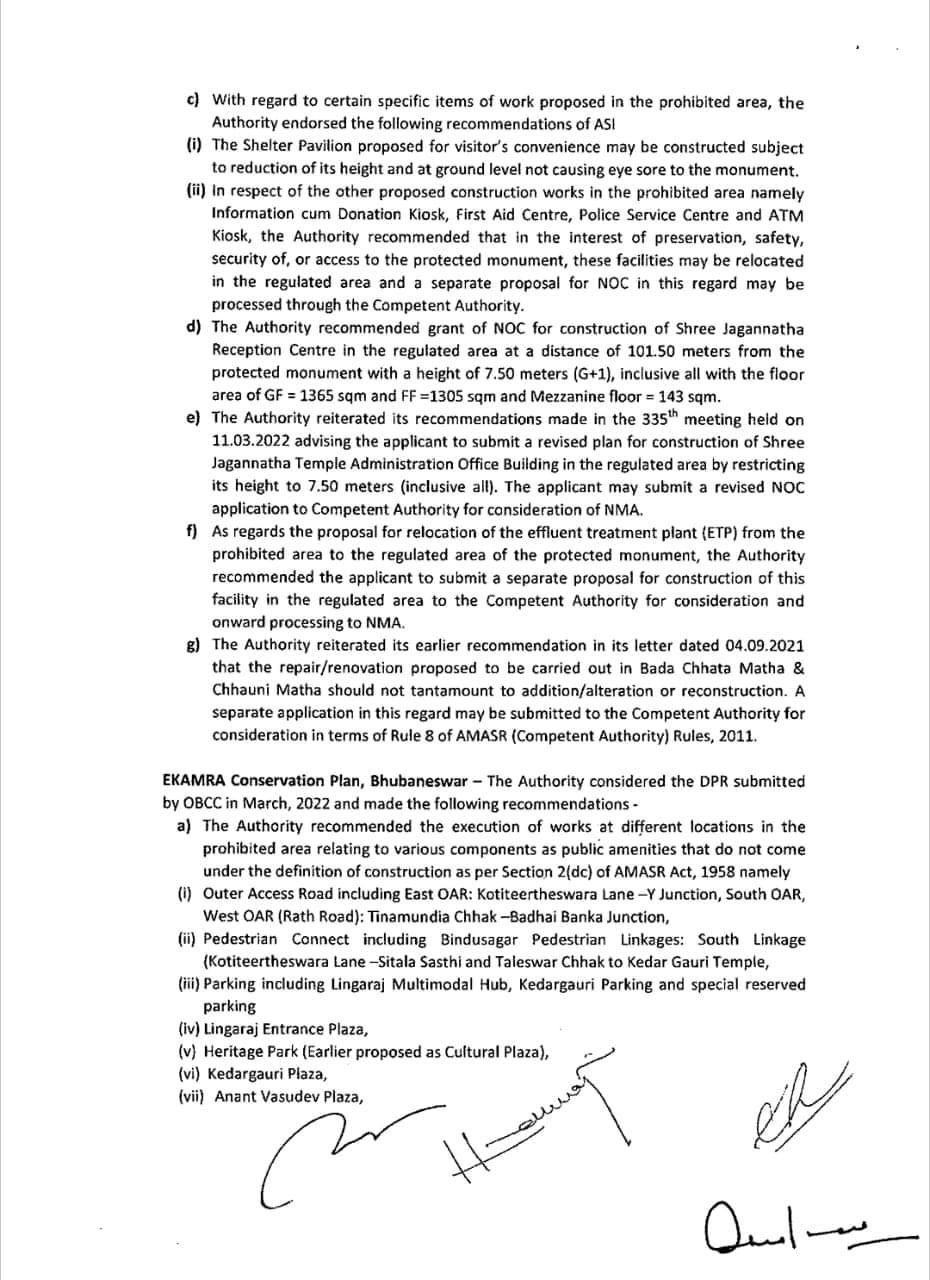 "The state government should work in close coordination with the ASI while implementing the project in Puri as well as near Lord Lingaraj Temple in Bhubaneswar and Konark Sun Temple. It should take up such projects in accordance with the provisions of the AMSAR Act," the BJP MP said.
Had the government followed the rules and not been adamant, crores of rupees would have not gone down the drain, she said about work earlier undertaken for the reception centre. "The government had to answer to 4.5 crore people about this loss to the state exchequer," she added.