Bhubaneswar: This Ganesh Puja, Bakul Foundation here is worshipping Lord Ganesh as Lord Tree Ganesh with a tree made up into the idol with artwork by volunteers with upcycled material.
A practice Bakul has been following since 2018 but discontinued in 2020 because of the pandemic.
A tree inside Biju Patnaik Park, where Bakul has set up Tree Library and Park Library set up with the support of BDA, was chosen for it. And when people came to worship the Tree God, they also planted a sapling as prasad.
Bishal Mohanty, a young volunteer, said, "We were pretty excited with this creative idea of giving an environmental message. Though there were precedents from earlier celebrations at Bakul, we designed it to withstand heavy showers as predicted by the Met office for the city."
Vice-Chairman of BDA Sanjay Kumar Singh stayed with the volunteers this morning as they readied the Tree Ganesh. He particularly complimented the volunteer, Shruti Kanungo, who had wrapped the dhoti very beautifully around the Tree Ganesh. He further said that the entire area around the library in the park could be developed as a quiet reading zone where people could also come with their books and read in the shade of the trees.
While Bakul drew inspiration from the age-old practice of worshipping trees in India, a practice prevalent even today, and more so, in the age of COVID when oxygen has been an emergency requirement, some state and national level wrestlers at Choudhury Bazar in Cuttack have put up a Ganesh idol wrestling with the coronavirus.
"We have showcased a wrestling natch between Lord Ganesh, representing India, and Coronavirus, representing China. Lord Ganesh will win the match here," said Promod Mukhi, an international-level wrestler and owner of Lions Gym.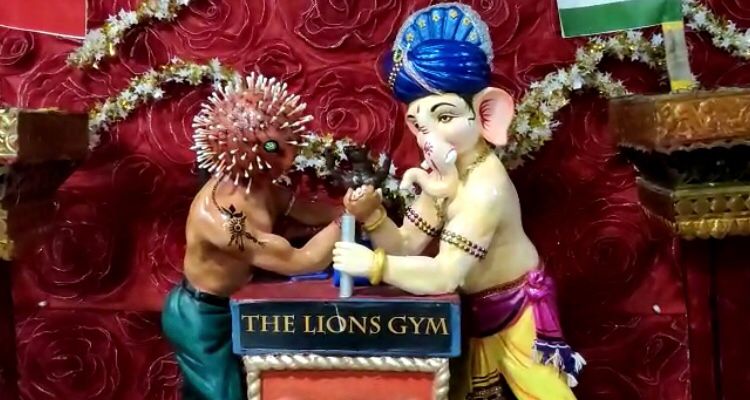 "Some artisans of Kumbhara Sahi in Cuttack have made this three-foot-tall idol," he added.