Bhubaneswar: As the annual Durga Puja festival gets underway, the Odisha capital is buzzing with activity besides getting decorated with glitzy puja pandals.
The designs of the various puja pandals and the decoration inside the pandal have been grabbing the attentions of devotees.
"Our puja pandal this year is in the shape of an artificial palace. The unique part of our pandal is that we have used stainless steel utensils like spoons, bowls and plates etc. More than three quintals of steel utensils have been used for making the pandal," informed Baramunda Durga Puja Committee president, Ramachandra Ranasingh.
The height of the pandal is 80 feet and the width is 120 feet. As many as 35 artisans took 45 days to complete the construction and decoration of pandal.
Artisans from Marshghai in Kendrapada district have made the idol, which is 16 feet height. Cuttack artisans have made the Medha.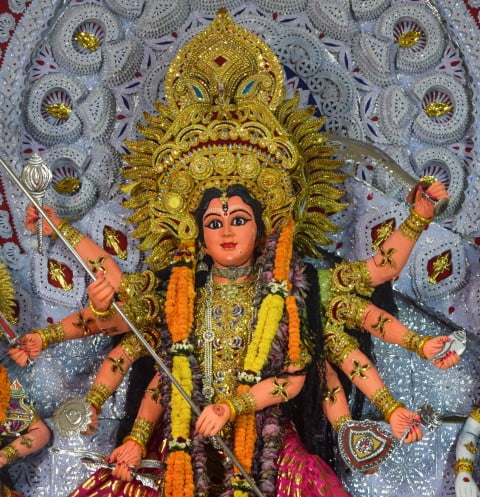 "For the security of the devotees, 120 volunteers have been deployed in the area. All the volunteers are members of the committee. To maintain law and order, two platoons of police have also been deployed. Besides, one fire brigade is present all the time," said Ranasingh.
Taranga Channel is organising cultural programmes near the pandal in Baramunda field. Taranga has been organising melody, dance programmes and fashion shows for four days, from Saptami to Dashami.
The committee has been giving Khichdi and Dalma as prasad to the devotees.
Another major attraction, the Meena Bazaar, has food stalls offering different types of delicious foods, joy rides and shops selling toys and home decor.
The Baramunda Durga Puja Committee has been allowed to conduct or 'Ravan Podi', burning of the effigy of the demon king Ravan to mark the triumph of good over evil, on Vijaya Dashmi.
The committee members will follow the Supreme Court guidelines, as per which, a barricade would be put up within a radius of 100 metres of the effigy of Ravan. In 2016, the apex court had issued some norms for the conduct of 'Ravan Podi' after more than 100 people died in a mishap during a fireworks show at a temple in Kerala.
As per the Supreme Court's direction, police and fire personnel should be present during 'Ravan Podi'.
Bhashani Yatra of Goddess Durga will be held on Saturday. Folk dances like Ghoda Nacha, Naga, Singha Nacha and puppet dance will be performed in the yatra. Many traditional instruments will also be brought in the yatra.