Uttarakhand Tunnel Collapse: 5 From Odisha Among 40 'Unharmed' Trapped Workers; Check Latest Update
Uttarkashi: Rescue operations entered Day 2 on Monday at the Uttarkashi tunnel on the Yamunotri National Highway where a portion of it partially collapsed on Sunday, leaving 40 construction workers, including five from Odisha, trapped inside.
The workers from Odisha have been identified as Tapan Mandal from Sankarshanpur, Bhagban Batra from Nabarangpur, Dhiren from Badakudar, and and Biseswar Nayak and Raju Nayak from Mayurbhanj.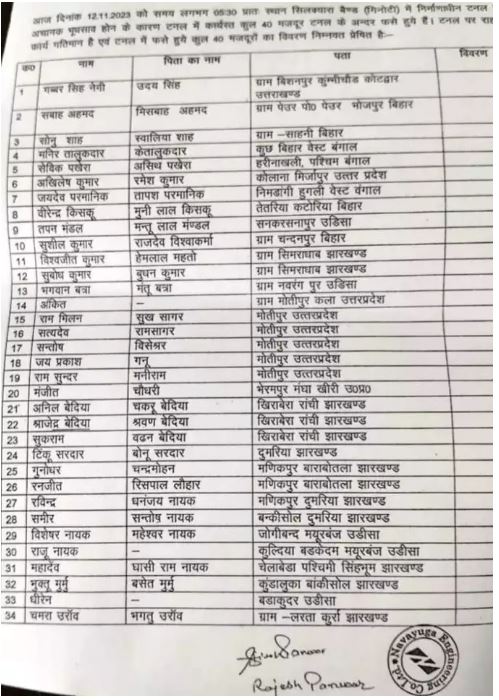 At present all the workers are said to be safe. They reportedly communicated with the rescue teams and asked for food and water to be provided to them inside. While oxygen is being supplied through the pipeline laid for supplying water in the tunnel, food packets are also being sent through the same using a compressor. "Oxygen supply is provided using temporary pipes, We are giving our best and making all possible efforts. As of now, the situation is under control and not life threatening," DRF Inspector Jagdamba Bijalwan told Indian Express.
According to reports, the rescue work at the tunnel continued through the night, and now rescuers are at a distance of about 60 meters from trapped workers. Heavy excavator machines have been mobilised to remove the debris inside the 13-metre-wide tunnel and an escape passage is being created to reach the trapped workers.
"Work is underway at a great speed. Everyone is working very hard. We were saddened yesterday because we weren't able to communicate with those trapped. But then we were able to communicate with them," Ranveer Singh Chauhan, a member of the Prantiya Rakshak Dal (PRD) told Hindustan Times.
According to some reports, 160 officials from different departments are a part of the rescue efforts and furthermore, leaves of all officials have been cancelled and they were asked to report to headquarters.
The tunnel in Yamunotri of Uttarkashi district is part of Char Dham all-weather highway. A 150-metre portion of the structure collapsed in the Silkyara Tunnel owing to a landslide in the region, the reports added.