What's The Status Of City Projects In Cuttack? Odisha 5T Secretary Takes A Review
Cuttack: 5T Secretary VK Pandian reviewed the status of two city projects in Cuttack on Sunday.
Taladanda Canal Road
Pandian first visted the project site for the expansion of Taladanda canal road.
Officials told the secretary that a stretch of 1.55 km of the road was almost complete. In the next phase, the roads on both sides of the canal will be extended up to the National Highway. The total length of the renovated roads will be 3.55 km.
On his part, Pandian told the officials to complete the project within the deadline.
Cuttack Netaji Bus Terminal
The 5T secretary later went to Khan Nagar area where the proposed Cuttack Netaji Bus Terminal (CNBT) will be set up. The proposed bus terminal will be built on an area of 17.91 acres.
Pandian directed the officials to shift the library from the project site after talks with the people. He also gave the officials 10 days to submit a report on a new site for the library.
The proposed terminal is expected to be operational by August 2022.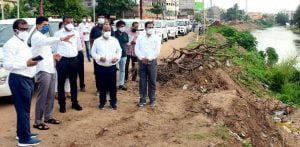 The 5T Secreatary was accompanied by Works Secretary Krishan Kumar, Special Secretary to Chief Minister R Vineel Krishna, Revenue Divisional Commissioner (Central) AK Samal, Cuttack Collector Bhabani Shankar Chayani, Commissioner of Cuttack Municipal Corporation (CMC) Ananya Das and senior officials.