The Beatles have inspired many singers and composers across the globe and even hold The Guinness Book record for the most number of cover versions (1,600) of their song 'Yesterday' written by Paul McCartney and John Lennon, including covers by stalwarts like Elvis Presley and Frank Sinatra.
Closer to home, prolific composers of yesteryears, Shankar Jaikishan, were no exception to their global counterparts. There were three instances when the legendary duo took inspiration from the Beatles, but wove their own creative magic around the originals to improvise them.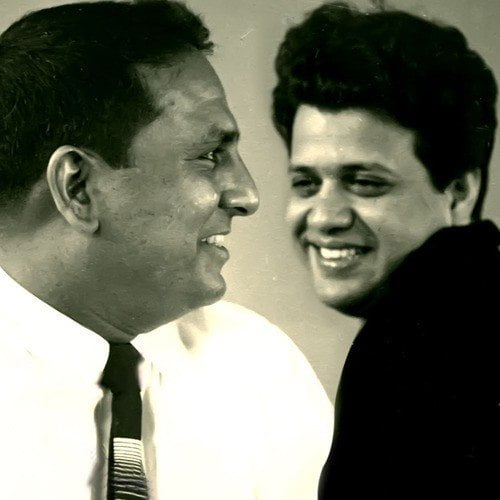 In 1965, in the Rafi-Asha duet composed by Shankar Jaikishan from the Shammi Kapoor starrer 'Janwar', the song 'Dekho, ab to, kisko nahin hai khabar' was not only completely inspired from the 1964 song 'I want to hold your hand' by Beatles, it was also picturised like a tribute to the legends with four Beatles look-alikes with guitars dancing in the background and Shammi Kapoor sporting a Paul McCartney hairdo and a guitar.
The lines of the song "Dekho ab to kisko, Nahin hai khabar, Dekho ab to kisko nahin hai khabar, Tumse hai dil ko pyaar, Tumse hai dil ko pyaar" are a note by note lift of the lines "O yeah, I'll tell you something, I think you'll understand, when I'll say that something, I want to hold your hand, I want to hold your hand, I want to hold your hand".
In 1967, in India's first 70 mm released movie 'Around the World' starring Raj Kapoor, there was a song 'Jaane bhi de sanam mujhe' sung by Sharda, who was being promoted by Shankar as the next singing sensation after Lata Mangeshkar during his conflict with Jaikishan. Inspired by the 1963 Beatles track, 'I'll get you', the first few notes of the song are absolute lift. The song starts with "Jaane bhi de sanam" exactly like "Imagine I'm in love with you" followed by "jane de, jaane, jaane, jaane de" picked note by note from "many, many, many times before'.
In 1971, another Shammi Kapoor-starrer 'Andaz' (known for the Kishore Kumar hit 'Zindagi ek safar hai suhana') also had a melodious Rafi-Asha duet 'Dil use do jo jaan de de'. This song was also heavily inspired from the Beatles track 'With a little help from my friends'. The song by Beatles was released in 1967. The first few lines of the song, "What would you do if I sang out of tune? Would you stand up and walk out on me? Lend me your ears and I'll sing you a song and I will try not to sing out of key" have pretty much the same notes as "Dil use do jo jaan de de, jaan use do jo dil de de".
In all the above compositions, it was only the first few lines where Shankar Jaikishan took inspiration from Beatles, but the remainder of the songs were completely the legendary composer duo's own creativity and only enhanced the flavour of the tune to fit the taste of Bollywood music aficionados.
(The writer is a doctor and public health specialist by profession but a passionate music enthusiast with special liking for Bollywood music from 80s and 90s)