'Cyclone Jawad' Casts Shadow On Odisha's Sand Art & Konark Festivals!
Bhubaneswar: The IMD forecast about a cyclonic storm brewing in the Bay of Bengal could play spoilsport for the five-day International Sand Art Festival and Konark Festival, beginning December 1. 
While the weather will remain dry on the inaugural day of the festival, rainfall activity is likely to begin from December 2 with light to moderate rain or thundershower at many places in south coastal Odisha, a few places in north coastal Odisha, Malkangiri, Koraput, Rayagada, Kandhamal and Dhenkanal and at one or two places in the rest of the state.
Puri, along with Ganjam, Gajapati and Jagatsinghpur, is likely to experience heavy rainfall on December 3. Heavy to very heavy rainfall is also likely to occur at a few places in Gajapati, Ganjam, Puri, Khurda, Nayagarh, Jagatsinghpur, Kendrapada, Cuttack, Bhadrak, Balasore, Jajpur with extremely heavy falls at one or two places in Ganjam, Puri and Jagatsinghpur the following day.
The cyclonic storm, Jawad, is expected to reach Odisha coast by December 4.
On December 5, Balasore, Bhadrak, Kendrapada, Jagatsinghpur, Jajpur, Cuttack, Keonjhar, Dhenkanal and Mayurbhanj are likely to witness heavy to very heavy rainfall.
However, the schedule of these two festivals hasn't been changed so far. "There is no change in the schedule of the festivals so far," confirmed a senior official of the state Tourism Department at the time of filing of this report.
This year, the Konark dance festival will commence with performances by the students of Odissi exponent Madhavi Mudgal. The first day of the event will also feature performances by Kathak artiste Vaswati Mishra and her students from 'Dhwani.'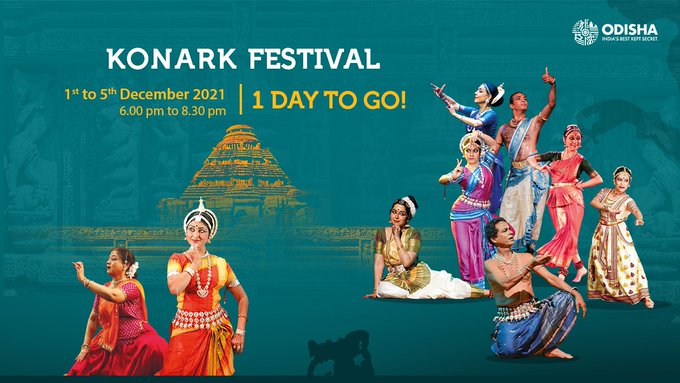 The second day will feature group performances by Anita Sharma, a leading Sattriya exponent and her students, followed by Odissi performances by Nilanjan Rout and his group.
Kolkata-based Odissi artiste Debamitra Sengupta and her group will perform on the third day. Mohiniattam stalwart Gopika Varma and her group will mesmerize audiences with their performance on the same day. Bharatnatyam exponent Leela Samson and her group will perform on the fourth day, followed by Odissi performances by Pitambar Biswal and his group.
The festival will culminate with an enthralling group performance by artistes of GKCM Odissi Research Centre and Kuchipudi recital by Jaikishore Mosalikanti and his group.
Puri Collector Samarth Verma told the media that the festival will be held with strict adherence to the COVID guidelines. "Accordingly venue capacity, the timing of the event and sequencing have been decided. The auditorium will operate at one-third capacity," he said.
The coordination meeting of the department concerned has been completed. "We are hopeful of conducting Konark Festival and Chandrabhaga International Sand Art Festival successfully," he said.
The programmes will be telecast and there will also be a facility for live streaming of the festivals, the collector said.
Three parking spaces have been identified for the three venues and there will be police presence at these places, he added.