Winter Chill To Return In Odisha With Fall In Night Temp From Sunday; Check Weather Forecast
Bhubaneswar: Cold wave is likely to return to Odisha with the India Meteorological Department (IMD) predicting a gradual fall in night temperature by 3 to 4 degrees Celsius from Sunday for subsequent 3 days.
Scientist and head of IMD centre here, H R Biswas said that the minimum temperature would see a gradual fall to normal or below next week.
Meanwhile, the lowest temperature of 11.5 degree Celsius was recorded at Daringbadi in the last 24 hours, ending at 8,30 this morning. The mercury dipped below 15 degree Celsius at five other places – Keonjhar, Nayagarh, Chandbali, Titlagarh and Jharsuguda.
It was 16.4 degree Celsius in Bhubaneswar while Cuttack was colder at 15.8 degree Celsius.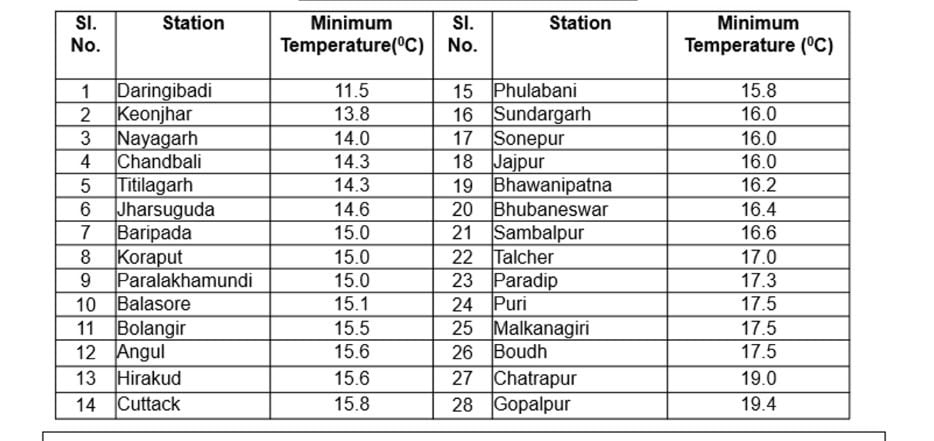 While light to moderate rain or thundershower is likely to occur at a few places in Kandhamal, Kalahandi, Malkangiri, Koraput, Rayagada, Ganjam, Gajapti and at one or two places over the rest districts of the state during the next 24 hours, the weather will remain from January 16 to January 18. Dense fog is also likely to engulf some districts of Odisha on January 17-18.
"Rainfall would reduce by Saturday and the state would witness complete dry weather from Sunday," he said.
Also Read: Dense Fog Warning For Odisha; Night Temp To Dip After 24 Hours
According to the IMD, Jharsuguda, Keonjhar, Sundargarh, Nabarangpur, Kandhamal and Rayagada received rain in the last 24 hours. It has been raining for the past five days under the influence of western disturbances.