12 Places In Odisha Record Night Temp Below 10°C; Cold Wave Recedes, Fog To Return
Bhubaneswar: Amid ebbing cold wave conditions, Semiliguda in Koraput district remained the coldest place in Odisha for the third day in a row at 4.5 degree Celsius, the India Meteorological Department (IMD) informed on Tuesday.
After biting cold for two successive days, the state has been witnessing a slight change in the night temperature, which will gradually rise by 3-4 degrees Celsius during the next three days. Semiliguda had recorded the season's lowest minimum temperature of 2 degree Celsius on Sunday and 3.7 degree Celsius the following day. There is no further cold wave warning for the state.
This is being attributed weakening of northerly and north-westerly wind flow towards Odisha.
However, fog will return to the state. The IMD has predicted shallow to moderate fog at one or two places in Kalahandi, Kandhamal, Ganjam, Puri, Khurda, Cuttack and Jagatsinghpur till 8.30 am on Wednesday. Kalahandi, Kandhamal, Ganjam, Gajapati, Khurda, Puri, Jagatsinghpur, Cuttack, Kendrapada, Jajpur, Dhenkanal, Angul and Keonjhar are likely to experience fog in the subsequent 24 hours.
The last 24 hours saw mercury dropping below 10 degree Celsius at 12 places in the state.
Semiliguda – 4.5°C
G Udayagiri (Kandhamal) -5.4°C
Koraput – 6°C
Phulbani (Kandhamal) – 6°C
Jharsuguda -7.8°C
Dhenkanal – 8°C
Rourkela- 8.1°C
Daringbadi (Kandhamal) – 8.5°C
Sundargarh – 8.5°C
Bhawanipatna – 8.8°C
Nabarangpur – 9.2°C
Keonjhar – 9.3°C
The twin cities of Bhubaneswar and Cuttack recorded 12.6 degree Celsius and 13.6 degree Celsius respectively.
Check the night temperature at other places in Odisha: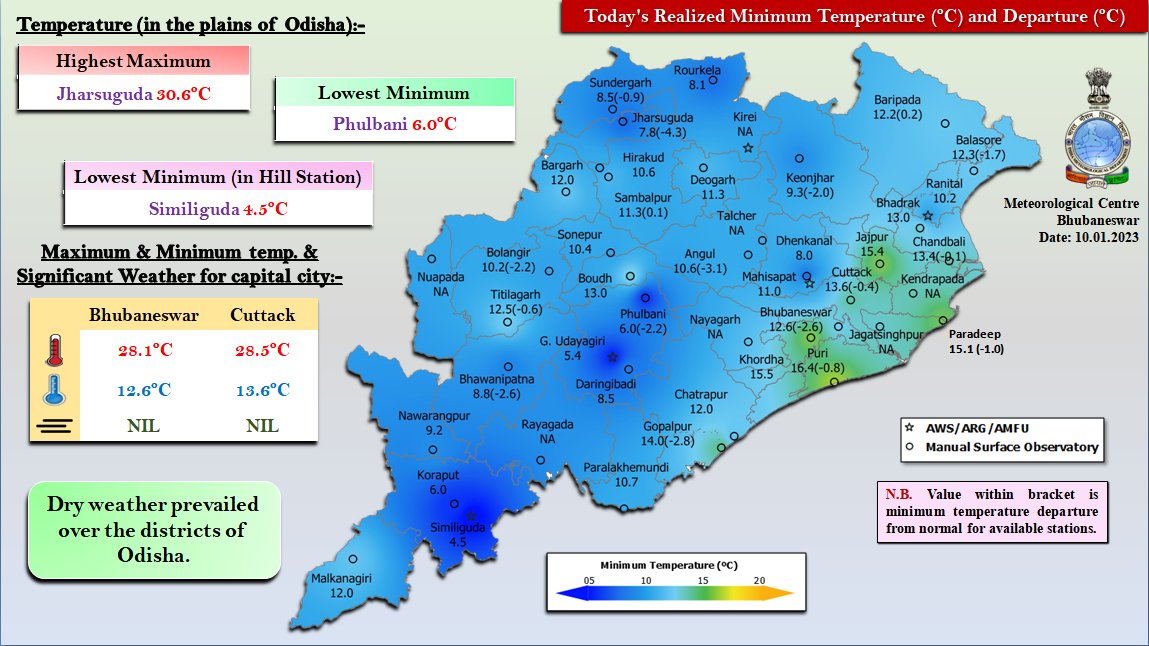 According to Centre for Environment and Climate (CEC), SOA, director Sarat Chandra Sahu said the change of wind flow to south westerly and formation of western disturbance over north India would push up the mercury level in the coming two days. Temperatures would rise prominently by January 12, he added.