Another Congress Leader Draws Flak For 'No Country Should Get Such A President' Tweet
Mumbai: The BJP came down heavily on former MP and Congress leader Udit Raj for his 'no country should get such a President' tweet on President Droupadi Murmu.
Stating that Udit Raj had used unacceptable language for the first woman tribal President, BJP spokesperson Shehzad Poonawalla on Thursday asked, "Does the Congress endorse this insult of Adivasi samaj?"
Udit Raj is the third Congress leader to have landed in a soup over their comment on the President. While Ajoy Kumar said that she represented the "evil philosophy of India", Adhir Ranjan Chaudhary drew flak for using the term 'Rashtrapatni'.
"This is the third strike after Ajoy Kumar & Adhir Ranjan statements on Murmu ji! This is not a Sanyog ! It is INC mindset," Poonawalla wrote.
Udit Raj's tweet was in response to the President's speech during her Gujarat visit on Monday when she said Gujarat produced 76% of the country's salt and that the salt produced in the state is consumed by all Indians.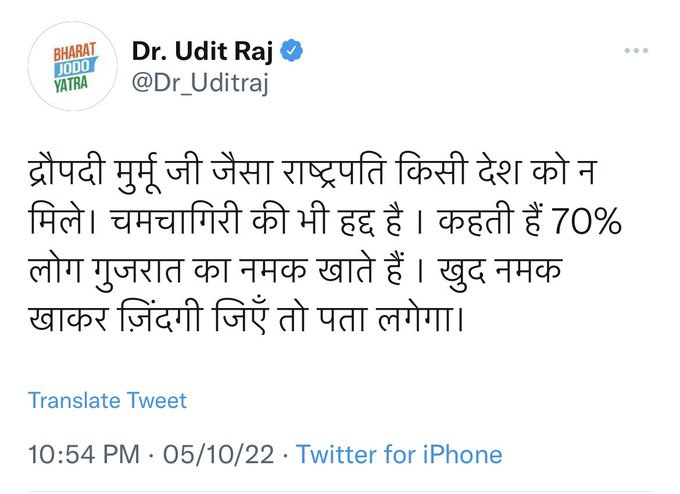 As the tweet created a furore, he said those were his personal views and not to be taken as the party's stand. "Her candidature & campaign were in the name Adivasi, it doesn't mean she is no longer Adivasi. My heart cries that when SC/ST reach a higher position, they ditch their communities & become mum," he said.
मेरा बयान द्रोपदी मुर्मू जी के लिऐ निजी है,कांग्रेस पार्टी का नही है।मुर्मू जी को उम्मीदवार बनाया व वोट मांगा आदीवासी के नाम से।राष्ट्रपति बनने से क्या आदिवासी नही रहीं? देश की राष्ट्रपती हैं तो आदिवासी की प्रतिनिधि भी। रोना आता है जब एससी/एसटी के नाम से पद पर जाते हैं फिर चुप।

— Dr. Udit Raj (@Dr_Uditraj) October 6, 2022
The Congress leader, however, clarified that he respects Droupadi Murmu and that his comments were not for the individual.
The President hails from Odisha's Mayurbhanj district and comes from a tribal community.
BJP spokesperson Sambit Patra said the words used for the President are worrisome and unfortunate. "This isn't the 1st time they've used such words. Congress' Adhir Ranjan Chowdhury did it too. This reflects their anti-tribal mindset," Patra was quoted as saying by Hindustan Times.