In continuing with its series, Odisha Bytes pays an ode to another singing legend of Bollywood, Anuradha Paudwal, who exited mainstream film music in the 90s when she was at the pinnacle of success. Considering her 45-year-long career and the number of melodious tracks she has sung, this article is the first of a two-part episode that will discuss the legend's initial struggles and strife during her trip to success.
A voice that many religious Hindus still wake up to through a Gayatri Mantra, Shiv Mahima, Ganesh Shloka, Devi Bhajan, Vishnu Sahasranam or Sai Vandana, Padmashri recipient Anuradha Paudwal and her voice have transcended generations even if she has been away from mainstream Bollywood music for more than a decade.
Apart from the rehashed or remixed hits like "Tamma Tamma" in Badrinath ki Dulhaniya, the last time followers of Bollywood music heard her was in 2006 in the fairly-forgettable songs "Palken Uthake Dekhiye" and "Dheere Dheere Dil Ko" in the thriller Jaane Hoga Kya and "Thi Meri Dastaan" in Kalyug. While these songs spelt the end of her second innings in mainstream movie music, she had found her niche audience among the bhajan listeners since the early 90s. This was the time she had ended her first innings in mainstream movie music abruptly when she was on the verge of claiming the throne of the likes of Lata Mangeshkar and Asha Bhosle.
During her prime, legendary veteran composer OP Nayyar had said, "Lata is finished. Anuradha has replaced her". By the time she reached this pinnacle, she had already been struggling for 17 years.
Born to a conservative Hindu family in Karvar, Karnataka, Alka Nadkarni (Anuradha's maiden name) was passionate about music, but her father felt that girls from respectable families should not associate with show business. An ardent Lata Mangeshkar fan, Anuradha claimed that she was not a trained classical singer, but learned to sing by listening to Lata's songs and practicing along with them.
She was in her fourth grade when a Lata song that she heard on radio triggered off her interest in music. She attended a live recording of an unreleased SD Burman composition sung by Lata, "Puchho Zara Kiske Liye Aayee Hoon", with a friend which inspired her to sing. However, she had a hoarse voice and classmates often called her a "peacock" in those days.
During a bout of pneumonia for which she was bed-ridden for more than 40 days, Anuradha listened to Lata Mangeshkar's recording of Bhagwad Gita incessantly and when she recovered from the illness, her voice had changed. She took this miracle in her stride and tried to mould her voice as she continued her autodidact from her spiritual guru—Lata Mangeshkar.
At the age of 17, she was married to a family friend, Arun Paudwal, who worked with music director SD Burman as his assistant. Arun used to make her sing every song that he recorded in order to understand how it would sound in a female voice. As fate would have it, SD Burman happened to hear one such recording and asked him to bring Anuradha to the studio where he recorded the Shiv Shloka that was picturised on Jaya Bachchan in Abhimaan. Thus the then 19-year-old Anuradha began her journey in the Bollywood music industry in 1973.
During a visit along with Arun to a Lata Mangeshkar recording composed by Hridaynath Mangeshkar, she was able to grasp the complete song and sang it live on a popular radio programme, Yuva Vani. Several top composers including Hridaynath Mangeshkar and Laxmikant-Pyarelal called the radio station to seek the singer. When they learnt that it was Arun's wife, they offered to launch her. But Anuradha, with her conservative background, was not ready to make the leap yet.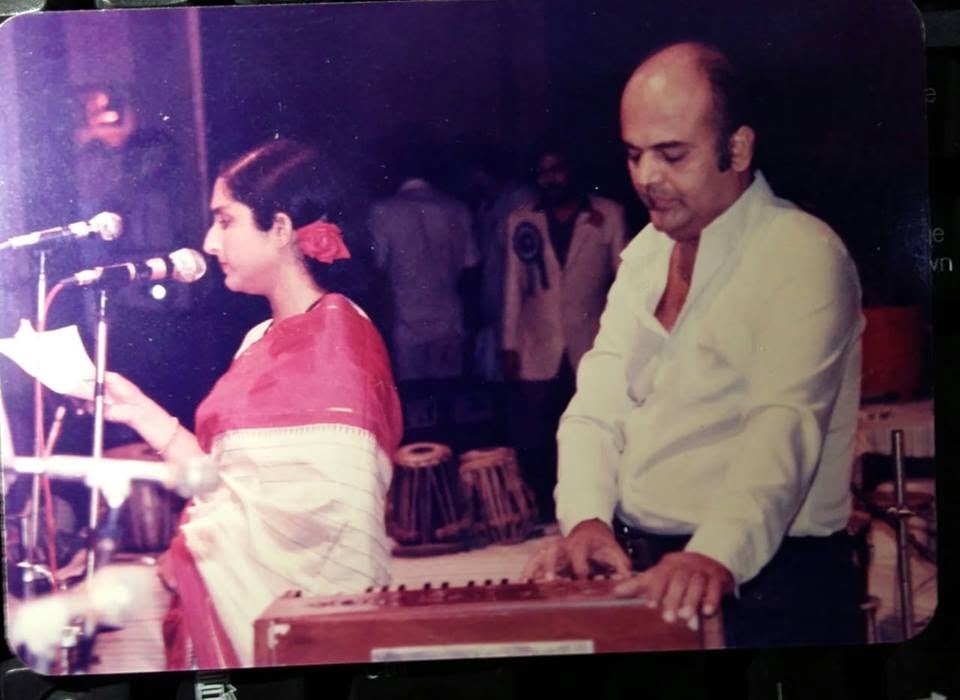 Arun Paudwal along with Anil Mohile (as Anil-Arun) used to compose as well as work as assistants to many composers in the Marathi movie industry. With his guidance, Anuradha made her Marathi film debut with Yashoda (music by Datta Davjekar) in 1973. In 1974, she brought out a record of non-film Marathi songs or "Bhav Geeten" which became very popular.
In 1976, she initiated her career as a playback singer in Hindi films with the Rajesh Roshan composition "Ek Bata Do Do Bate Chaar" with Kanchan for the Subhash Ghai film Kailcharan, starring Shatrugan Sinha and Reena Roy. She landed her first solo, a Laxmikant Pyarelal composition "Hum To Garib Hain", in the movie Aap Beeti, (starring Hema Malini and Shashi Kapoor). So enamoured were the composer duo by Anuradha's voice that they insisted that she be the dubbing artist for all their songs. However, like many of her peers, she tried to avoid doing so initially. Owing to their love for her voice, Laxmikant Pyarelal not only provided Anuradha a foundation but also honed her skills and consistently stood by her throughout her years of struggle.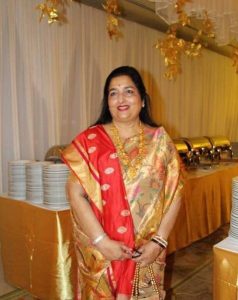 The year 1976 also gave Anuradha an opportunity to match her skills with stalwarts like Kishore Kumar, Mohd Rafi, Mukesh and Manna Dey. While she sang the Laxmikant Pyarelal composition "Ram Leela" in the Dev Anand starrer Jaaneman with Manna Dey, she also went on to sing the melodious Rajesh Roshan composition, "O Dil Jaani", with legendary Kishore Kumar in the Jeetendra starrer Udhar ka Sindur. The same year she sang the forgettable "Dildaar Humare Dil Ko Tum" with both the singing legends Mohd Rafi and Kishore Kumar in the Shatrughan starrer Sangram and the title song of the movie Bhagwan Samaye Sansar Mein composed by Laxmikant Pyarelal with the legendary Mukesh. The year also gave her an opportunity to sing the title song of the superhit Laila Majnu starring Rishi Kapoor—"Laila Majnu Do badan ek jaan the" with Preeti Sagar composed by Jaidev. She had now been noticed.
In 1977, Laxmikant Pyarelal provided her "O Balma Mere Balma" with Asha Bhosle in the movie Thief of Baghdad, "Ansuon ko Tham Le" in Chhota Baap and the melodious duet with Kishore Kumar "Bin Saathi Ke Jeevan Kya" in Ek Hi Rasta. The same year she received two other opportunities to sing with the legendary Mohd Rafi—she sang the Bappi Lahiri composed bhajan "He Bansi Wale" and the Ravi composed "Bura Na Mano Yaar" in Aadmi Sadak ka (which also had the popular song that every person hums at his friend's wedding till date—"Aaj Mere Yaar Ki Shaadi Hai"). She sang a few other forgettable compositions of Kalyanji Anandji, Usha Khanna and Rajesh Roshan in Farishta ya Qatil, Alibaba Marjinaa (which had "Main Hoon Kafir Mast Hasinaa" with Asha Bhosle) and Jay Vijay.
The year 1978 brought many more opportunities. She sang the pleasant & peppy "Gumsum Si Khoi Khoi" with Kishore Kumar from the movie Badaltey Rishtey, "Naukri Sau Ki" with Kishore Kumar in the movie Aahutee, the forgettable "Amar Hai Shakti" with Kishore Kumar and Mohd Rafi in the movie Amar Shakti and "Nathaniyan Jo Dali" in the movie Main Tulsi Tere Angan Ki for Laxmikant Pyarelal. She also sang in few other forgettable Kalyanji Anandji compositions in Besharam and Do Musafir. None of these songs in that year were noticed by the listeners, but Usha Khanna finally brought Anuradha love from the audience for her rendition of "Madhuban Khusboo deta hai" (with Yesudas) and "Jijaji Jijaji" (with Suresh Wadkar) in the movie Sajan Bina Suhagan.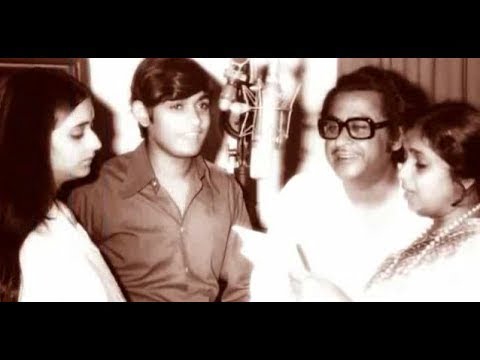 The year 1979 gave Anuradha some of her most soulful songs. While she sang the melodious Jaidev compositions "Zindagi Mein Jab Tumhare Gham Nahi The" & "Zindagi Mere Ghar Aana" with Bhupinder in Dooriyan, she also sang two beautiful duets with Mohd Rafi—the Bappi Lahiri composition "Maathe ki Bindiya" from the movie Lahu Ke Do Rang and the Laxmikant Pyarelal composition "Yeh Geet Koun Mere Mann Madhuban" in the movie Maan Apmaan. She also sang the melodious Laxmikant Pyarelal composition "O Chanda Jiya Tujhe" in Yuvraaj.
These songs found her admirers in a niche audience but she still hadn't reached out to the masses. The Laxmikant Pyarelal composition "O Meri Jaan" with Kishore Kumar from the superhit horror flick Jaani Dushman found some popularity. This year also marked her foray into the Odia music industry with a superhit duet with Mohd Aziz "Janha Amaku Luchi Dekhuchhi" and "Mana Mora Eka Tiki Chadhei" in the movie Manini. She continued to receive admiration and opportunity in the Odia music industry from thereon.
The year 1980 and 1981 did not bring much joy even though her songs featured in various hit movies. She sang the Laxmikant Pyarelal compositions "Kamaal Hai" with Kishore Kumar and Manna Dey in the Subhash Ghai hit Karz and "Payaliya Chhanki Ki Na" with Mohd Rafi in Do Premee. She also sang in the Amitabh & Shashi Kapoor starrer Do Aur Do Paanch for the Rajesh Roshan composition "Soti Hai Yeh Raat Sone Do" with Kishore Kumar. In 1981, she sang a few lines in "Mere Jeevan Saathi" with SP Balasubramaniam in the superhit Ek Duje Ke lIye for Laxmikant Pyarelal. The only respite in 1981 were the Jagjit Singh compositions for the Raj Babbar hit Prem Geet—the soulful "Dekh Lo Awaaz Dekar" and "Aao Mil Jayen" with Suresh Wadkar.
Fame continued to elude Anuradha in the year 1982 with forgettable opportunities from Laxmikant Pyarelal and other composers like Kalyanji Anandji and Raghu Nath Seth in Jeevan Dhara, Yeh Nazdeekiyan, Teesri Aankh, Main aur Mera Hathi, Jeeo Aur Jeene Do and Mehndi Rang Layegi.
Desperation had crept in, but history was in the making. Anuradha now agreed to be a dubbing artiste for Laxmikant Pyarelal. Like all dubbing artistes, she sang the first drafts, which singers like Lata Mangeshkar or Asha Bhosle used to sing the final draft. When these singers were either unable to sing a song due to their busy schedules or thought the songs unfit for their stature, the draft versions got retained in the movies, thus giving singers like Anuradha and Kavita Krishnamurthy some opportunity.
The year 1983 gave Anuradha the peppy hit "Khoye Khoye Rahe Teri Yaadon Mein" with Kishore Kumar in Sreedevi's debut movie Kalaakaar, the soothing RD Burman composition "Kabhi Kuch Pal Jeevan Ke" with Aarti Mukherjee in Rang Birangi and the Usha Khanna composition "Mere Pehle Hi Tang thi choli" from the Rajesh Khanna superhit Souten, which frequently appeared on Doordarshan for Holi. She also reached out to the masses with Laxmikant Pyarelal's "Jawaani Ki Rail "with Shabbir Kumar from the iconic Amitabh movie Coolie (in which he was grievously injured). But the jewel among the lot came from the Subhash Ghai blockbuster Hero—the Laxmikant Pyarelal compositions "Tu Mera Hero Hai" & "Ding Dong" with Manhar Udhas. Incidentally, these songs were also sung by Anuradha as first drafts as Laxmikant Pyarelal had decided to use Lata Mangeshkar for all the songs. They liked the draft versions and left the two songs unchanged and as fate would have it, it changed the course of Anuradha's career. Hero was declared an "All time blockbuster" at the Indian Box Office with a run for more than a year in many theatres and its music played in every nook and corner of the country. So popular were both the songs that "Tu Mera Hero Hai" won her the first Filmfare award in 1984. The same year, she also lent her voice to another Laxmikant Pyarelal composition in the movie Utsav—the complex "Mera Mann Baaja Mridang" with Aarti Mukherjee & Suresh Wadkar which went on to win her the debut National Award in 1985. Anuradha Paudwal had finally arrived the Bollywood music scene!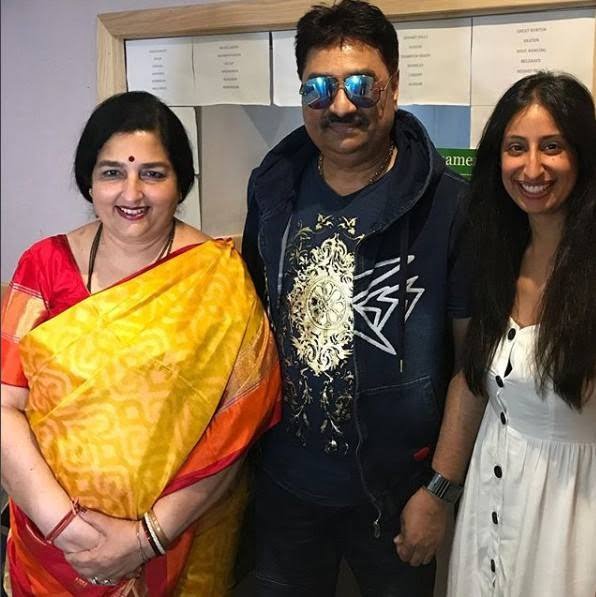 Fame and recognition had been received but there was no continuity of work and struggle continued beyond these awards. The upcoming episode will discuss the struggle after these awards, the abrupt exit and the second innings.
Songs from Anuradha Paudwal's initial struggling years (1976-84) that you might have missed, but are worth listening:
O Dil Jaani (with Kishore Kumar) from Udhar Ka Sindur (1976)
Bin Saathi Ke Jeevan Kya (with Kishore Kumar) from Ek Hi Rasta (1977)
Gumsum Si Khoi Khoi (with Kishore Kumar) from Badaltey Rishtey (1978)
Jijaji Jijaji (with Suresh Wadkar) & Madhuban Khushboo Deta Hai (with Yesudas) from Saajan Bina Suhagan (1978)
Zindagi Mein Jab Tumhare Gham Nahi The & Zindagi Mere Ghar Aana (with Bhupinder) from Dooriyan (1979)
O Meri Jaan (with Kishore Kumar) from Jaani Dushman (1979)
Maathe ki Bindiya Bole (with Mohd Rafi) from Lahu Ke Do Rang (1979)
Yeh Geet Koun Mere Mann Madhuban (with Mohd Rafi) from Maan Apmaan (1979)
O Chanda Jiya Chahe from Yuvraaj (1979)
Yeh Patte Yeh Paude from Ek Baar Phir (1980)
Kabhi Kuchh Pal Jeevan Ke ( with Aarti Mukherjee) from Rang Birangi (1983)
Khoye khoye rahe teri (with Kishore Kumar) from Kalakaar (1983)
Tu Mera Hero Hai & Ding Dong from Hero (1983)
Mere Mann Baaje Mrudang (with Suresh Wadkar) from Utsav (1984)
(The writer is a doctor and public health specialist by profession but a passionate music enthusiast with special liking for bollywood music from 80s and 90s)
Pictures Courtesy: Anuradha Paudwal Official/Facebook