Audi To Launch Pure Electric E-Tron In India This Year
Audi India on Saturday showcased its first electric SUV — e-Tron — in India. The e-Tron is the first electric vehicle by Audi that will go into production.
The e-Tron SUV takes cues from Audi Q series and size-wise it is slightly smaller than the Q7. Being an all-electric car, the front grill has active flaps that open to cool the motors inside. Audi has purposefully kept the design contemporary instead of futuristic, considering this SUV marks its entry in the electric vehicle market. The only futuristic trick is virtual rear-view cameras that consist of HD cameras in place of wing mirrors.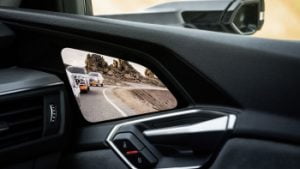 The e-Tron is powered by 2 electric motors, making 265kW or 355bhp, with a torque output of 561Nm. The SUV can do 0-100kmph in 6.6 seconds. The 95kWh batteries weigh 699kg. The range on a single charge is 400km on the liberal WLTP cycle. The charging takes 8.5 hours on normal outlets and 40 minutes using fast chargers.
Audi will officially unveil it on July 12. The e-Tron won't be cheap. Experts hint at a price tag upwards of ₹ 1.50 crore.