Bhubaneswar: Audi Bhubaneswar on Saturday announced introduction of #A5BratPack in the city by launching Audi A5 Sportback, Audi A5 Cabriolet and Audi S5 Sportback.
The Audi A5 trio blends elegant emotional design with high functionality. The powerful and flowing silhouette makes the trio truly aesthetic with abundant space inside. Beneath their skin, notably impressive traits include a newly developed suspension, high performance drives, innovative infotainment solutions, Audi Virtual Cockpit and Audi Smartphone Interface.
Audi A5 Sportback, Audi A5 Cabriolet and Audi S5 Sportback are priced at INR 54,02,000, INR 67,51,000 and INR 70,60,000 respectively.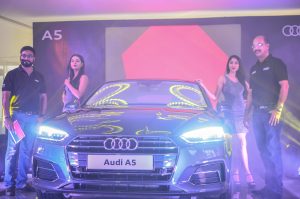 "The Audi A5 range will definitely catch the attention of the young minded achievers who have made a statement with their uncompromising way of thinking," said Audi India Head Rahil Ansari.
With the launch of the #A5BratPack, the German luxury car manufacturer has strengthened its product portfolio which now includes ten new products for 2017 itself. The new range comes loaded with a 2.0 litre TDI engine on the new Audi A5 Sportback and A5 Cabriolet and is capable of churning out 140 kW (190 hp) of power not to mention the fact the quattro all-wheel drive is standard on A5 Cabriolet and S5 Sportback.
"The features and specifications of Audi A5 trio are such that it would definitely be a sure shot winner in a market like Bhubaneswar. Audi Bhubaneswar looks forward for an overwhelming response to #A5BratPack," said Audi Bhubaneswar general manager Bharani Kumar.
Engines and drivetrain
Audi A5 Sportback
• 2.0 litre TDI engine churns out 140 kW (190 hp) of power
• 0 to 100 km/h (62.1 mph) in 7.9 seconds
• Seven-Speed S tronic dual-clutch transmission
Audi S5 Sportback
• 3.0 litre TFSIq engine churns out 260 kW (354 hp) of power
• V6 turbo engine, 0 to 100 km/h (62.1 mph) in 4.7 seconds
• Eight-Speed tiptronic, quattro all-wheel drive is standard
Audi A5 Cabriolet
• 2.0 litre TDIq engine churns out 140 kW (190 hp) of power
• 0 to 100 km/h (62.1 mph) in 7.8 seconds
• Seven-Speed S tronic dual-clutch transmission, quattro all-wheel drive is standard