Bhubaneswar: Late Congress leader Lalatendu Bidyadhar Mohapatra's brother Lalitendu and daughter Upasana joined the BJP at a special function at Exhibition Ground here on Saturday.
Apart from them, former youth Congress president Satyajeet Patnaik, lawyer Pitambar Acharya and several other Congress leaders from Brahmagiri constituency in Puri district were also inducted into the saffron party.
All of them were extended a warm welcome by BJP leader and Union Petroleum Minister Dharmendra Pradhan, party's state unit president Basanta Panda, BJP legislature party leader K V Singhdeo and other senior leaders.
In November last year, Lalatendu aka Lulu passed away at a private hospital in Gurgaon. He had formed an outfit Lulu Sena in February 2016 amid talks of intra-party squabbles.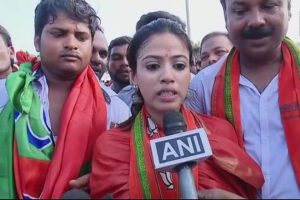 On Friday, Upasana had said that her father had a feeling of being tortured within Odisha Congress since 2016 and was not taking part in any party activity.