Lukewarm Response To Odisha Bandh, Farmers' Body Claims Moral Victory
Bhubaneswar: The 12-hour dawn-to-dusk Odisha bandh called by Naba Nirman Krushak Sangathan (NNKS) and supported by the opposition BJP and the Congress evoked a lukewarm response in the state on Thursday.
Barring some districts, including the twin cities of Cuttack and Bhubaneswar where the protesters resorted to road blockade in the morning for some hours, there was little or no impact of the bandh in almost all parts of the state.
While business establishments remained open in most of the districts, vehicular traffic was restored before noon.
As a preventive measure, police detained several protesting farmers including 20 in Bhadrak, 39 from Madhupatna in Cuttack city, about 70-80 in Bhubaneswar, more than 56 farmers from Dharmasala, Panikoili, Chandikhole and Jajpur Road in Jajpur district, 15 in Khurda town and 20 at Jatni.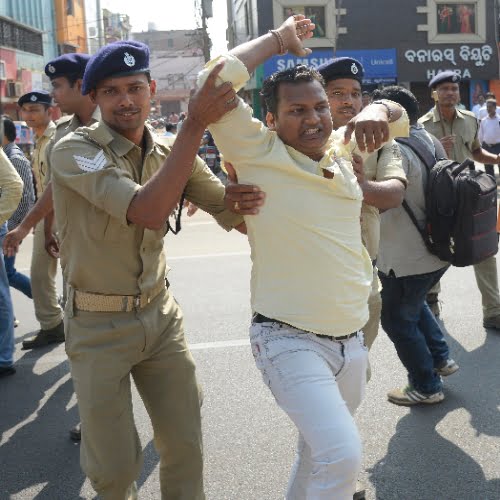 Though the Congress and BJP had lent their support to the bandh call, no worker or leader of both the parties was found demonstrating with the NNKS activists. However, the BJP Krushak Morcha participated in the bandh for a few hours at Master Canteen Square in Bhubaneswar.
While the NNKS national convener Akshay Kumar claimed that the Sangathan had a moral victory on the pretext that it was successful, the ruling BJD, on the other hand, dubbed it as total failure.
"Neither the people of Odisha nor the farmers supported the Odisha bandh. From this, it is clear that the people and the farmers have accepted the decision taken by the state government for the welfare of the community," BJD spokesperson Pratap Deb told mediapersons here.
In his reaction, chief spokesperson of Odisha Pradesh Congress Committee Satya Prakash Nayak said the bandh was spontaneous and nowhere the traders and the commuters were forced to down shutters and stopped. "It hardly matters whether the trading establishments were closed or the vehicular traffic was stopped. The fact is that we have won a moral victory. At least the people of the state have become aware of the problems of the farmers," he added.
Commenting on the issue, BJP state vice-president Samir Mohanty said the impact of the Odisha bandh was felt in the state. "We had lent our moral support to the NNKS. It is the democratic right of any individual, party or organisation to demonstrate. However, depriving any organisation or individual of its rights by force is grossly undemocratic. Hence, we had protested against the coercive action of the state government and extended our support to the price, prestige and pension demands of the NNKS," Mohanty pointed out.