Bhubaneswar Art Trail 2018: Innovative, Universal & Marquee
The Bhubaneswar Art Trail (BAT) is a unique art initiative in the country, aiming at creating a creative space around the Old Town (which is often described as the 'a treasure trove of time since 6th century CE'), and introducing art to the public in such a mystic setting and maverick air.
In many ways, BAT 2018, the debut edition, is going to democratise art in a manner rarely seen in India on this scale. Art is the preserve of a few and perennially deserves a much greater share among people, learners, youth, senior citizens, women, children, you, I, and everyone.
Picasso said, "The purpose of art is washing the dust of daily life, off our souls".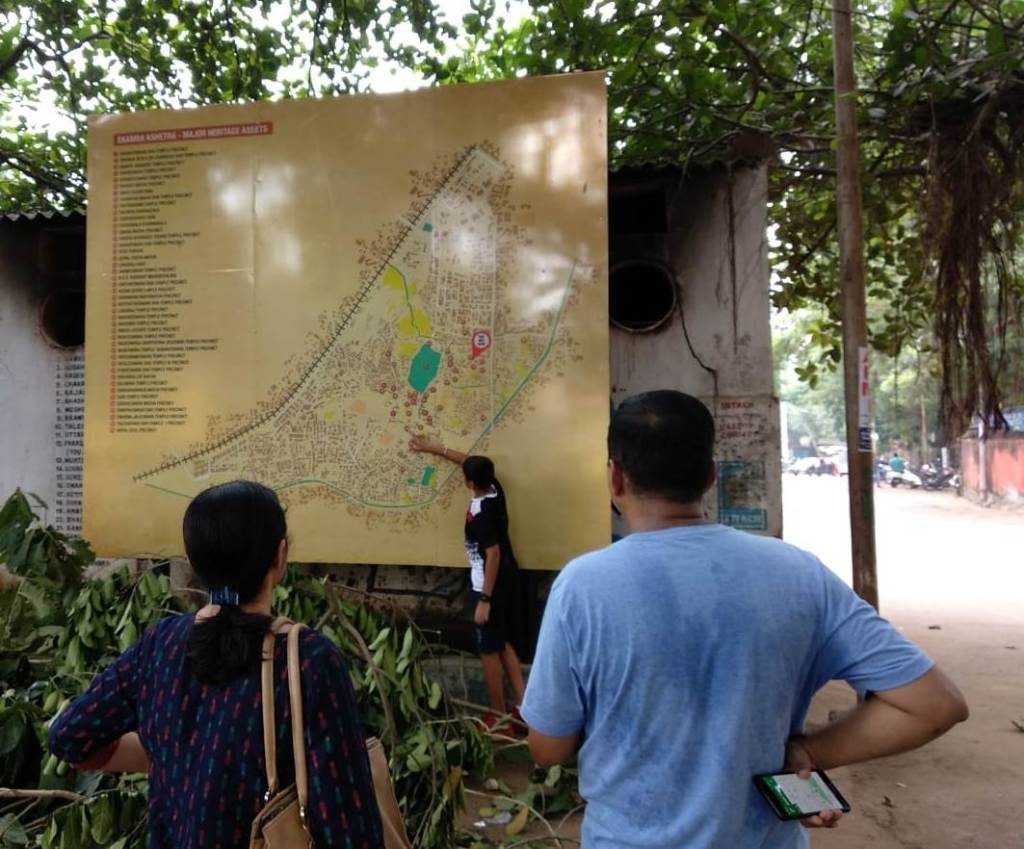 In these tumultuous times, when the pace of change has overwhelmed all of us, art has the strength of bringing us back to our senses and centre us. Because all of us are creators, 'AhamBrahamasami'– I am the creator. It's about how much we experience art or are opportune to experience which makes the difference towards fostering an aesthetic, creative and 'refined' civilisation.
Odisha, the repository of unparalleled heritage is also the capital of soft power in the country. There is uncommon juxtaposition and synergeticco-existence between history and the present, the harmony of antiquity and contemporary. Odisha, Bhubaneswar, and especially the Old Town area are all elements of a large breathing canvas, waiting to be embraced, but diffident, and shy.
BAT 2018 is opening up a public atelier – a large public stretch of workshop or studio of artists, where masters, assistants, students, apprentices and all of us can work together to produce pieces of fine art. The canvas can be anything – a school building, a public wall, pavements, parapets, tufts, houses, youth club buildings, and just about anything. Art knows no ceiling or fencing.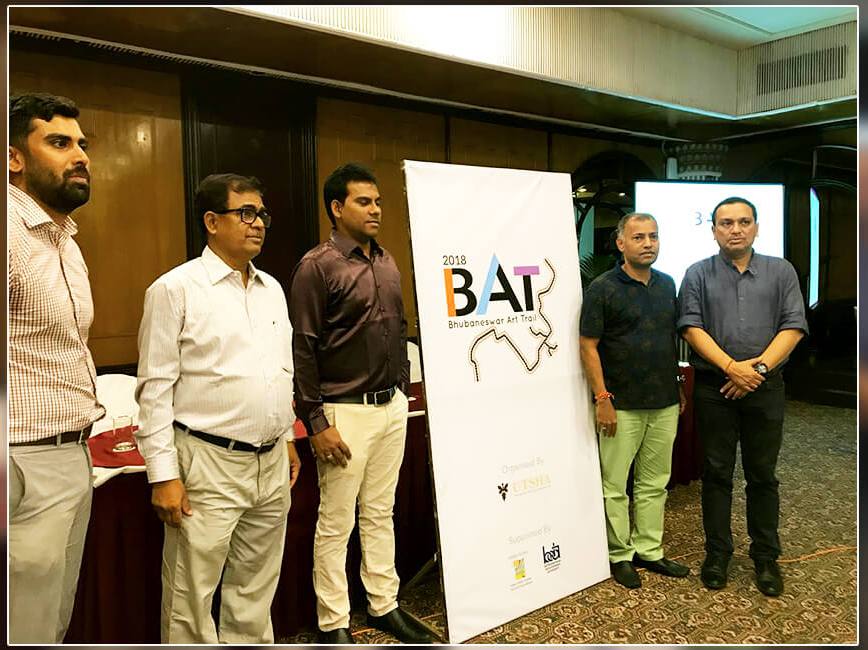 Jagannath Panda, the founder of Utsha Foundation for Contemporary Art and a renowned artist, is busy getting venerable names of the art world to Bhubaneswar and is still uncomfortable if I ask him if this BAT 2018 is the first in India. In his quiet way, he doesn't claim BAT 2018 to be the first-of-its-kind in India. That is the tradition of Odisha and its art. Unobtrusive and it waits 'to be discovered and to be flaunted' always. Hence, the curatorial theme for the trail is 'Navigation is Offline'. Offline indicates the simple and unplugged search for the innermost artist and navigation, being the fluidity of movement from one mood to the other.
Bhubaneswar is the millennial city of temples and the art trail could be one of divinity, flowing with innate energy in the purest form. Not for nothing then that creative fountainheads and artists of varied genre would spend time in Bhubaneswar, meditating on their creations, transmitting energies to all of us, we the artists of serendipity.
While the curators include Jagannath Panda, PremjishAchari, and Hannah Barnes, the fraternity congregation will have artists like Ramahari Jena, Veejayant Dash, Pratul Dash, Gigi Scaria, Sudarshan Shetty, Sharmila Samant, Arunkumar HG, Markus Baenziger, Cecile Beau, RamakantSamantaray, SailenRoutray, Smrutikanta Rout, Pratap Jena, Subrat Behera Kumar, Suchismita Mohanty Ram, Niroj Satpathy, Samarjeet Behera, Satyabhama Majhi, architects Sayantan Maitra and Sibananda Bhol, TejaGavankar, ArnikaAhldag, textile designer PankajaSethi, and many others from India and abroad.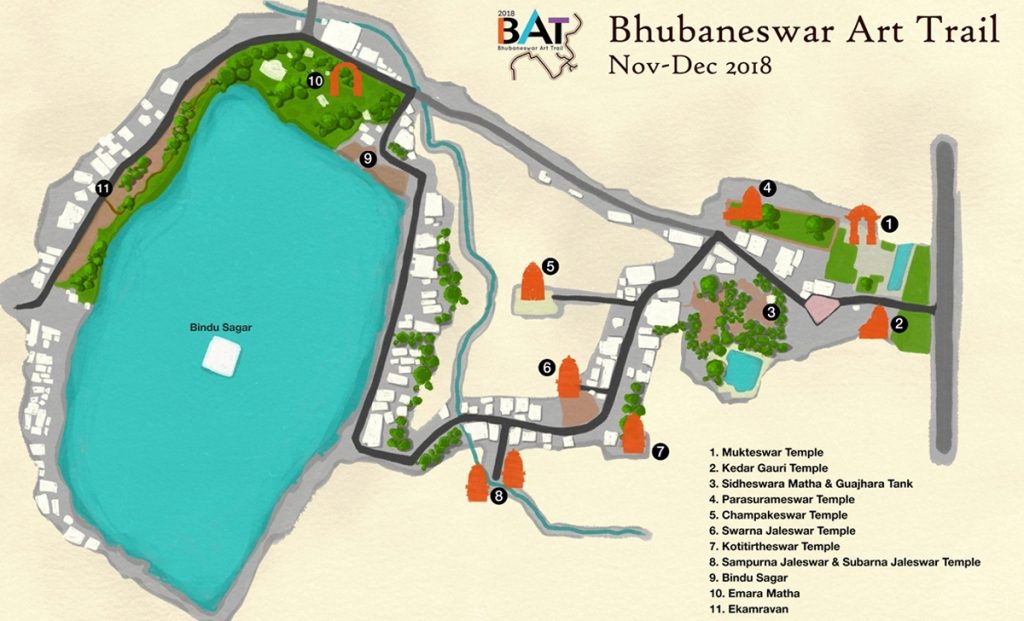 It is going to be a large, open studio with myriad art work in various forms, in varied hues along a stretch of 1.3 km with streets, houses, medieval monuments, contemporary architecture, schools, shops and public institutions all coming alive and beautifying the country's leading Smart City initiative.
Smart City projects across India would take a leaf out of Bhubaneswar's book and adapt to make public art an integral part of the national endeavour. Artists will interact with the community, undertake residency, assimilate the culture of the place and create art.
BAT 2018 in its first edition would beckon the seamless integration of art, creativity and technology in the coming days to make the Smart City drive of the government of India, comprehensive. The contribution of BAT 2018 is much beyond sheer fiesta. It would pioneer the way we dream and build living spaces for half the nation's population by 2025. By an estimate, half of India would be living in cities by 2025.
With exemplary support from the state, Bhubaneswar Urban Knowledge Centre (BUKC), Bhubaneswar Development Authority, Department of Tourism, Department of Sports and Youth Services, Department of Odia Language, Literature and Culture, Bhubaneswar Municipal Corporation, community associations like Kedargouri Club, Guajhara Association, institutions like Kedarnath Gaveshana Pratisthana, B K College of Art and Crafts, Utkal University of Culture,Orissa Dance Academy and Dhauli College of Art among others, the event is scheduled to be flagged off on November 18.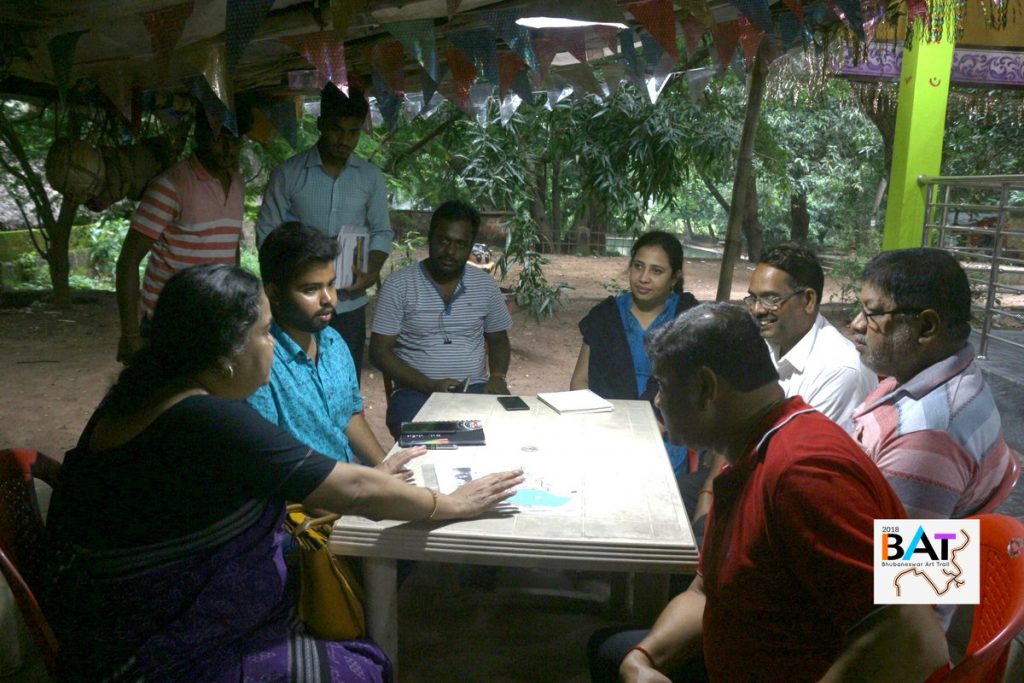 Praiseworthy is the effort of the organizers, specifically of professionals and aficionados like Sukanya Rath, who have prepared the blueprint for the mega event and leading the entire programme and operations from ground zero, with a young and highly-energetic team of volunteers. They have accelerated elaborate activities for social mobilization, engaging with schools, local bodies and residents of the trail area.
Leaving no stone unturned, they are organising door-to-door campaigns, sensitising local clubs and associations and building stakeholder relationships. The BDA, BUKC and BMC team has mapped the infrastructure requirements with the help of 3D modelling of the entire trail and pinned specific requirements for street lights, repair work, setting up of toilets, cleaning of streets, drainage repair, painting of walls and importantly all this is being done in partnerships with multiple line departments, in consultation with the multifaceted communities of the city's age-old heritage district.
'Navigation Offline' is all about the oneness of Odisha, the indomitable spirit and the bond of art, sans the intervention of the otherwise-all-pervasive technology.
Team BAT 2018 has put in place what probably the late maestro Dinanath Pathy, one of Odisha's best-known art exports (he collaborated with German art historian Eberhard Fischer and worked with the Rietberg Society in Zurich; received the Rietberg Award, recognizing his lifetime work and contribution to Indian art history), and an institution by himself, conceived in a year-round art exhibition programme called Chitra Baramasi when he worked as a Divisional Manager of Odisha Tourism. 'Digapahandira Drawing Master' is in the front, the visionary green lighting the trail.
BAT 2018 would be an art carnival, interpreting imagination, travelogues, and medieval travel poetry like Matsuo Basho's or the La Passeggiata in Bhubaneswar like it is a habit in Italy (read Sicily). But this easy stroll in Old Town would be surrounded by unique and original creations interacting with us all over. This would be the Bhubaneswar La Passeggiata amid art, a navigation not only through landscapes but also through a collage of memories and experiences.
After all, it is what Vince Lombardi has appropriately reminded us that "the measure of who we are is what we do with what we have."
BAT 2018 is set to be a trail blazer. You and I should be a few proactive notches more engaged in discovering our internal, individual 'art quotient' and see the state justifiably taking a place at the art high table of India and open itself as the Art Hub of India – Odisha the well-kept enigma.
Creativity is waiting to engage and occupy. Are we ready?
Disclaimer: (The views expressed by the author are his own and do not necessarily represent the views of the web portal)