Bhubaneswar: BJD women's wing on Friday staged a dharna in front of Raj Bhawan here, protesting against the Centre's decision to restrict the subsidy on domestic LPG cylinder by raising the price at Rs 4 every month till March next year.
The agitators also submitted a memorandum, addressing the President of India, to Governor SC Jamir.
"Six months back, the central government rolled out Pradhan Mantri Ujjwala Yojana to provide subsidised LPG connections to poor household with an aim to provide them a cleaner environment to cook. The recent decision to restrict the subsidy is anti-woman and anti-poor and defeats the purpose of the scheme as these families will not be able to purchase LPG at market price. It has now become clear that the Centre is introducing different schemes in the name of benefiting the poor for self-publicity," BJD leader and MLA Raseswari Panigrahi said.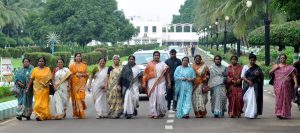 In the memorandum, the party has drawn the attention of the President to the reduced price of crude oil globally. "While the crude oil price has deceased by 51.32% since 2014, the price LPG (subsidised) has been increased by 18.47%. Consumers have been eluded of this benefit due to imposition of taxes and duties," it said.
The state government had abolished VAT on LPG in 2011, but 5% GST is now being imposed on it, the memorandum said, adding that the central government was putting extra burden on women LPG users by withdrawing the subsidy on the pretext of welfare activities.
Panigrahi said massive demonstrations will be held before the office of all district collectors on August 8. The agitation will be intensified with similar protests at block and panchayat levels, if the Centre fails to roll back the decision, she added.