Daughter Elopes With Lover, Father Holds Her 'Funeral' In MP
Bhopal: Unable to bear her daughter's decision to elope with her lover, a man in Madhya Pradesh decided to hold her funeral ceremony after declaring her dead.
The incident came to light on July 30, four days after the 19-year-old girl eloped from Kuchrod village. According to police, the father, Gopal Mandora, even sent out invitations for the funeral ceremony of his daughter, leaving fellow villagers shocked at the bizarre act.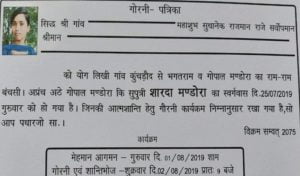 Police have launched a probe into the matter.