Day Temperature Touches 38°C In Bhubaneswar: IMD
Bhubaneswar: The mercury shot up to 38°C in Odisha capital on Tuesday, the highest temperature recorded in the city in February this year, according to a Bhubaneswar Meteorological Centre tweet.
It further said that the maximum temperature in the state capital had touched 37.6°C by 2.30 pm.
According to IMD's midday bulletin, dry weather conditions will prevail across the state for the next five days with no large change in the night temperature. The maximum temperature in Bhubaneswar will hover between 35-36°C till February 27.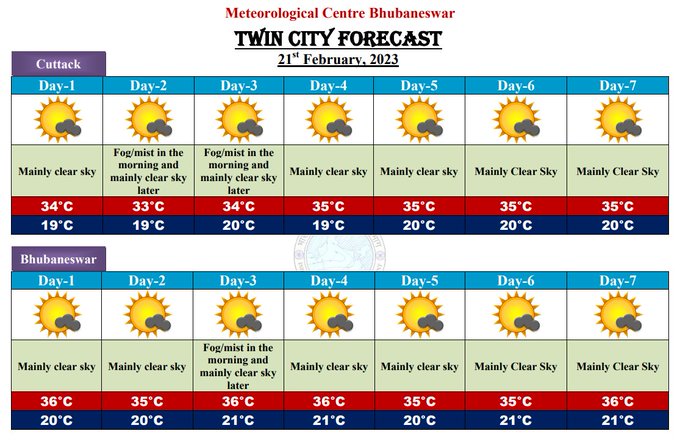 Notably, several places in Odisha have been witnessing a sudden rise in the day temperature in the past few days and the highest of 36°C was recorded in Malkangiri the previous day.
In an earlier forecast, the MeT office said that the state is likely to experience above-normal daytime temperature this month and the probability of coastal districts being more affected is high. The rise in temperature is being attributed to weak La Nina conditions and a lack of rainfall activity in February.
"Between February 9 and February 16, the minimum temperatures were appreciably above normal by 3-4°C at one or two places during the first half of the week, markedly below normal by 5-6°C at one or two places during the second half of the week, appreciably below normal by 3-4°C at one or two places and near normal elsewhere in Odisha throughout the week. Dry weather is very likely to prevail across Odisha between February 17 and February 23 with the minimum temperature rising gradually by 2-3⁰C in the first half of the week and remaining near normal thereafter. The following week will see near-normal minimum temperature," the IMD said in its extended weather outlook.
In 2021, the maximum temperature in Bhubaneswar touched 40.4 degrees Celsius, the highest for February in the last 58 years. The city had recorded an all-time high of 42.7 degrees Celsius on February 23, 1963.