Daytime Temp In Odisha To Drop From Tomorrow; Low Pressure Likely Over South Andaman Sea By May 5
Bhubaneswar: The heatwave will continue to persist for the next 24-48 hours due to westerly winds from Afghanistan, Pakistan and Rajasthan and the temperature will drop thereafter, senior scientist of India Meteorological Department (IMD) RK Jenamani told ANI on Friday.
"If we talk about eastern India, there has been been a slight drop in temperature in Odisha, Bihar, West Bengal and Jharkhand. Jharsuguda, Sambalpur, Balangir and Angul in Odisha recorded 44°C yesterday. The temperature will begin dropping here from tomorrow," he said.
Notably, eight places across the state recorded 44 degree Celsius and above on Thursday with Boudh district remaining the hottest at 45 degree Celsius. The mercury crossed 43 degree Celsius at 13 places.
"Heatwave conditions are likely to prevail in Odisha for another 2 days. Conditions will change by May 1," he said.
Western Disturbance is advancing and thunderstorm and rain are likely to take place from May 2, he added.
The IMD had earlier informed that the mercury level would dip in a few parts of Odisha due to thunderstorm activities in the next two days.
"There will be no large change in maximum temperature (day temperature) during the next 2 days while the mercury is likely to witness a slight decrease of about 2°C in subsequent two to three days in Odisha," it said
Heatwave condition is very likely at isolated places in Sundargarh, Jharsuguda, Deogarh, Keonjhar, Mayurbhanj, Angul, Sambalpur, Bargarh, Sonepur, Boudh, and Balangir on Friday and in Sundargarh, Jharsuguda, Sambalpur, Bargarh, Sonepur, Boudh, and Balangir on Saturday.
The maximum temperature is very likely to be more than 40°C and it is likely to be 3 to 5°C above normal at many places in interior Odisha and 2 to 3 °C above normal at a few places in coastal Odisha during the next 2 days, it added.
Also Read: Norwester Likely To Bring Relief From Heatwave In Odisha On May 1-2
Meanwhile, Jharsuguda had recorded 40.4 degree Celcius till 11.30 am on Friday followed by Keonjhar at 39.6 and Sambalpur at 39.2 degree Celsius. The daytime temperature shot to 39 degree Celsius in Bhubaneswar.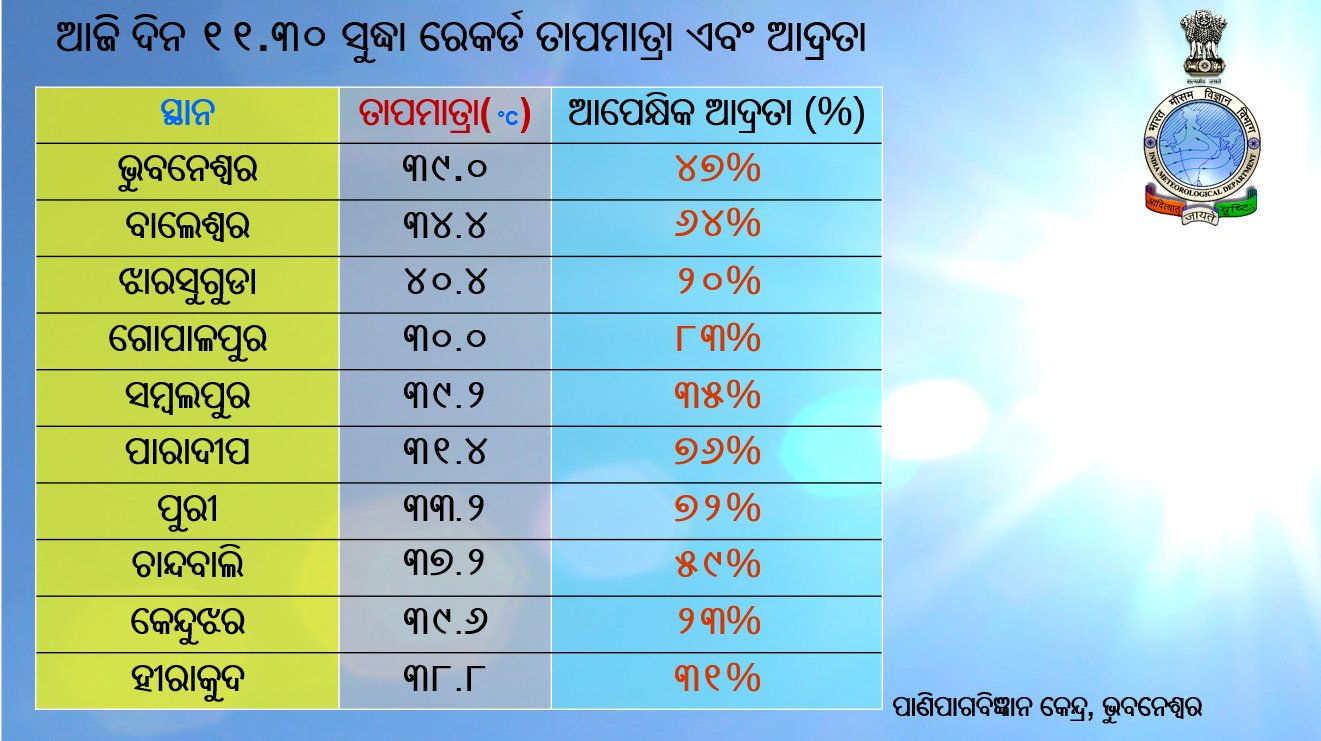 The IMD also informed that a cyclonic circulation is likely to form over the South Andaman sea and neighbourhood around May 4. A low-pressure area is likely to form over the same region under its influence during the next 24 hours and become more marked during the subsequent 24 hours.
"Squally wind (speed reaching 40-50 kmph gusting to 60 kmph) is likely to prevail over South Andaman Sea on May 4. Fishermen are advised not to venture into South Andaman Sea and adjoining southeast Bay of Bengal on May 4," IMD tweeted.
Fairly widespread to widespread rainfall is likely to occur over Andaman and Nicobar Islands with isolated heavy rainfall over the Nicobar Islands on May 4, it added.