New Delhi: The Election Commission (EC) is staring at a bigger dilemma even as it grapples with the challenge of paid news and political ads on social media. The challenge is: How to handle the forthcoming release of biopics on Narendra Modi and Rahul Gandhi.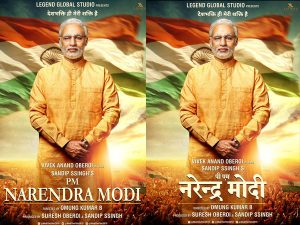 These two films are set to hit theaters right in the middle of the election season and the Commission is unsure if their release will violate the model code of conduct.
Needless to say, these two films have the potential to influence voters and the right to certify movies rests on the censor board and not on the EC.
While the censor board can only certify a movie and is not empowered to ban its release, the EC has no set of guidelines to regulate film releases.
"Unlike paid news, certification for films does not come to the Election Commission," said S.K. Mendiratta, former legal adviser to the Commission.
"There is a separate authority to certify films — CBFC (Central Board of Film Certification) — so EC can do little in this matter," he said. "What it can do is advise the CBFC to not certify any content that can impact elections," he told news portal The Print.
The news portal also quoted a top source in the EC, saying the matter was being examined on a priority basis.
The Vivek Oberoi-starrer biopic on Prime Minister Narendra Modi is slated for release on April 12 — a day after the first day of polling in the Lok Sabha elections, which begins on April 11.
The second film, My Name Is RaGa, will trace the personal and political journey of Rahul Gandhi. It would release a week after.
"It's the story of the coming back of a human being who had been ridiculously attacked. Anyone who has fearlessly confronted defeat and failure can relate to this story," My Name Is RaGa director Rupesh Paul said at a recent press conference. "In that sense, I don't want to call this a biopic. It's the story of any man who becomes unstoppable after he wins over a catastrophic life."
"The timing of the release of these films is so fishy, it is reasonable to ask questions, and investigate," said Sanjay Kumar, director of the Centre for the Study of Developing Societies (CSDS).
Given that the films feature political figures who have a stake in the elections, the Commission would be well within its rights to ask for a preview of the film, he said.
Will these movies influence voters when elections are on?
According to Image consultant Dilip Cherian, who The Print spoke to, its influence on voters could be limited to an extent.
Given the appetite for realism in cinema nowadays, and the ubiquity of social media, the ability of a film to influence voters is far less than what it would have been in the 1980s, he said.