Bhubaneswar: Iodine deficiency hampers both mental and physical growth. Awareness should be created among public regarding adequate use of iodine, opined health experts at a seminar organized at the conference hall of Director, Health Services, here on Saturday on the occasion of Global Iodine Deficiency Disorders Prevention Day.
Highlighting the consequences of iodine deficiency, the speakers said it can lead to complications among pregnant women at the time of delivery and birth defects among children.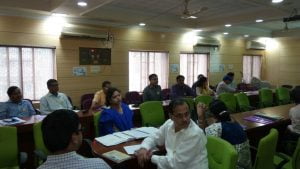 As per a survey conducted by National Family Health Survey (NFHS) 4, around 93 per cent houses in Odisha are using iodized salt. Target has been set to ensure cent per cent consumption of absolutely iodized salt at household level, a senior doctor said.
The event was attended by Director, Health Services, Dr Braja Kishore Brahma, Public Health Director Dr K K Tripathy, Nursing Director Dr Basant Panda, Senior Professor from SCB Medical College and Hospital Dr Ramachandra Giri, Professor from MKCG Medical College and Hospital, Dr Radhamadhab Tripathy and Dr Durgamadhab Satpathy from VIMSAR.