Family's Night Of Horror As 4-Foot Spectacled Cobra Peeps Out Of Toilet Pan
Cuttack: A four-feet-long venomous cobra snake was rescued from the toilet in the house of Prakash Mishra at Charchika Sahi in Banki area.
Sources said, one of Mishra's family members spotted the snake's hood in their latrine pan around 11 pm and raised an alarm. They immediately sent a picture of the snake to Subhendu Mallik, general secretary of Snake Helpline who identified it as a Spectacled Cobra.
On Wednesday morning, a two-member team from Snake Helpline reached the house and rescued the reptile after a 90-minute operation.
Snake helpline members Lalit Mohan Panda and Durga Madhab Mohapatra could not locate the snake in the toilet and had to break the pan to catch it. The snake was later released in its natural habitat outside the village.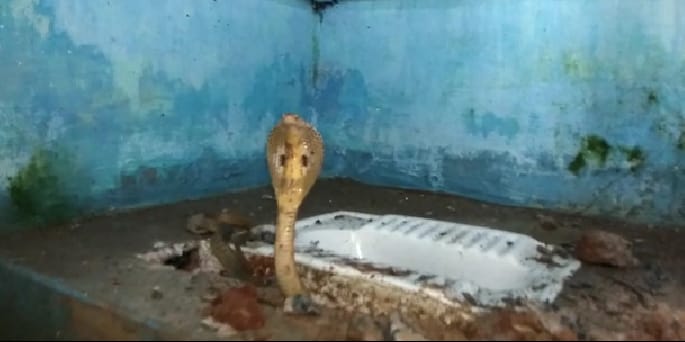 Subhendu Mallik founder of Snake Helpline said "We tried to catch the snake without damaging the property, but cobra has slithered in and was hiding. We were left with no other choice but to break the pan and catch the cobra. The family would have faced problem if the snake was not caught."