Final Results: BJD Wins 90% ZP Seats In Odisha Panchayat Polls, BJP Draws A Blank In 10 Districts
Bhubaneswar: The BJD has swept the Panchayat polls in Odisha by bagging 765 (+one uncontested) of 852 seats, smashing all its previous records.
The Conch party is all set to form Zilla Parishads (ZP) in all the 30 districts of the state with Opposition BJP and Congress reduced to 42 and 37 seats respectively. Independent and others have won 7 seats.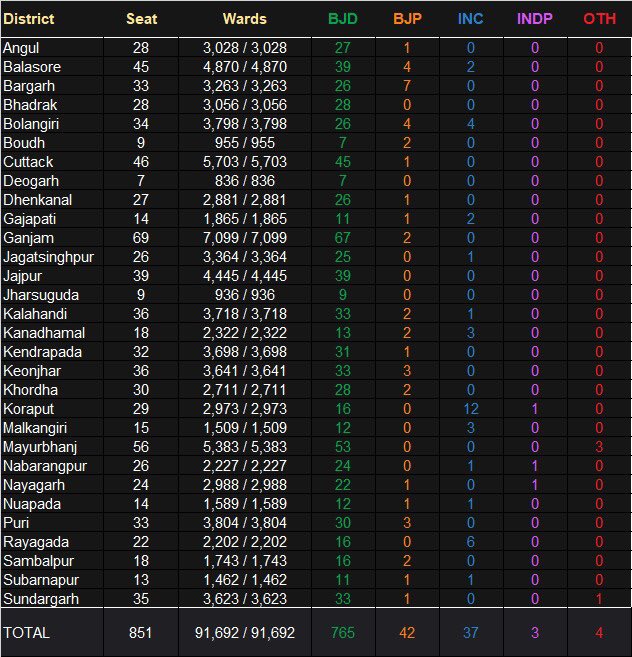 Vote share of different parties:
Total rural voters: 2.79 crore
Total valid votes: 2,10,28,403
BJD: 1,10,89,712
BJP: 63,23,746
Congress: 28,54,398
Ind: 2,81,213
Others: 4,79,334
Earlier in the day, BJD president and Chief Minister Naveen Patnaik on Tuesday thanked the people of Odisha for their overwhelming support, which reduced the main challenger BJP to the fringes.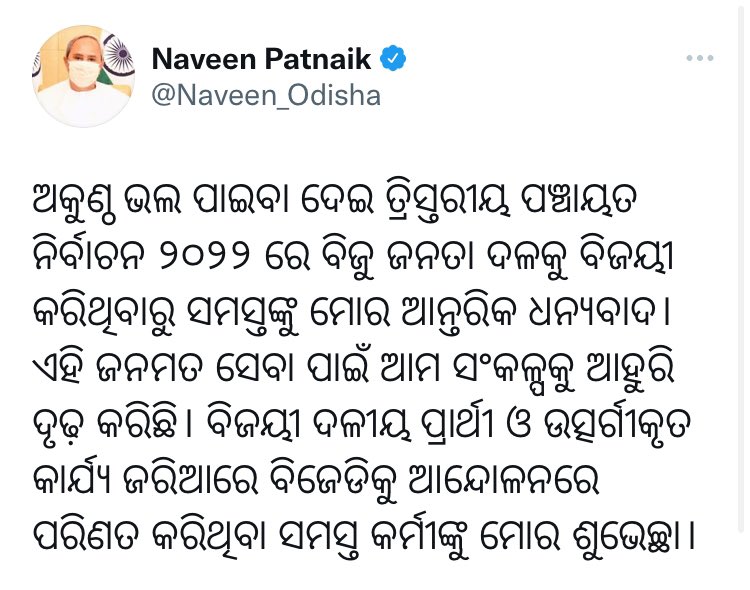 Reversing the losses of 2017, the Conch party has wrested all the 10 Opposition-held districts of Balangir, Bargarh, Deogarh, Gajapati, Kalahandi, Mayurbhanj, Sambalpur, Sonepur, Rayagada and Jharsuguda. The BJD had won 476 seats in 2017 and formed ZPs in 20 districts.
While Naveen continued to be its face, the party made major changes in its script by strengthening the organisation at the grassroots and tactical positioning of senior leaders ahead of the polls in all districts. The party's organisational secretary, Pranab Prakash Das, was in charge of Mayurbhanj, where BJD had won only two of the nine assembly segments last time. The focus was on stopping the growth of the saffron party in the state ahead of the 2024 general elections, party sources said.
The BJP, which had formed ZPs in eight districts after winning 297 seats in 2017, faced drubbing in its bastions in western Odisha, Mayurbhanj and Malkangiri, where it drew a blank besides 8 other districts -Bhadrak, Deogarh, Jagatsinghpur, Jajpur, Jharsuguda, Nabarangpur, Koraput and Rayagada.
Former minister Anjali Behera, who was contesting for Samiti member seat from Giridhar Prasad Gram Panchayat under Hindol Block in Dhenkanal district on a BJP ticket, also lost the election by a margin of 826 votes. Behera was a member of the State Legislative Assembly for three consecutive terms from Hindol on BJD ticket in 2000, 2004 and 2009 Assembly elections.
In Union Minister Dharmendra Pradhan's home district, the saffron party has won just one of 28 seats.
Expressing disappointment over the poll debacle, senior BJP leader Bijoy Mohapatra said, "Results are not baffling. It's obvious if a party is unprepared going into elections. There was no clear strategy neither was there any meeting prior to the polls."
He further said the central leaders praising BJD was in itself a defeat, asserting that the results won't affect municipal polls.
An attempt by the faction-ridden Congress to revive the party also failed as it was reduced to 37 from 60 seats in the last elections. It could open its account in only 12 districts.