First Visit To Odisha: Actor R Madhavan 'Blown Away' By Facilities At Kalinga Stadium [Watch]
Bhubaneswar: Tamil superstar R Madhavan is the latest personality to have been bowled over by Odisha's magnificent rise as the sports hub of India.  The actor was in Odisha, his first visit to the state, as the Chief Guest for the Closing Ceremony of the 48th Junior National Aquatics Championships 2022, and he visited different facilities within the stadium complex, including the upcoming Aquatic Centre.
"This is my first visit to Odisha and I am completely blown away by how the whole city is organised. At Kalinga stadium, one realises why it is called India's best-kept secret. I don't think it should be a secret anymore, simply because the facilities are world-class and outstanding. There is structural excellence which is already evident but more than that is the spirit of the people involved, who are making things happen, which is actually the spirit of champions," he said.
The actor, who made his directorial debut with Rocketry: The Nambi Effect recently, was all praise for the infrastructure and amenities being provided at the stadium. "They are very progressive and futuristic in construction as well," he said.
Madhavan was surprised to know that Odisha is the biggest sponsor of Hockey in India. "I think Odisha is soon going to be one of the Centre of Excellence in sports," he added.
"#Odisha is no longer India's best kept secret, it's known to all", said @ActorMadhavan during his visit to Kalinga Stadium at the #AquaticNationals2022.

Hear him out! pic.twitter.com/mfafkNLmIL

— Odisha Sports (@sports_odisha) July 20, 2022
Notably, his son Vedaant broke the National Junior Record in the 1500 m freestyle at the Aquatic competition. A professional swimmer, he had also won a gold in swimming at the Danish Open 2022 in Copenhagen.
The actor along with his wife and son also met Chief Minister Naveen Patnaik. "Thank you so much for the kind hospitality & the most fantastic endeavour of putting Odisha firmly on one of the Best Sports Venue map of India-Your commitment for the future of sports is invigorating (sic)," he tweeted.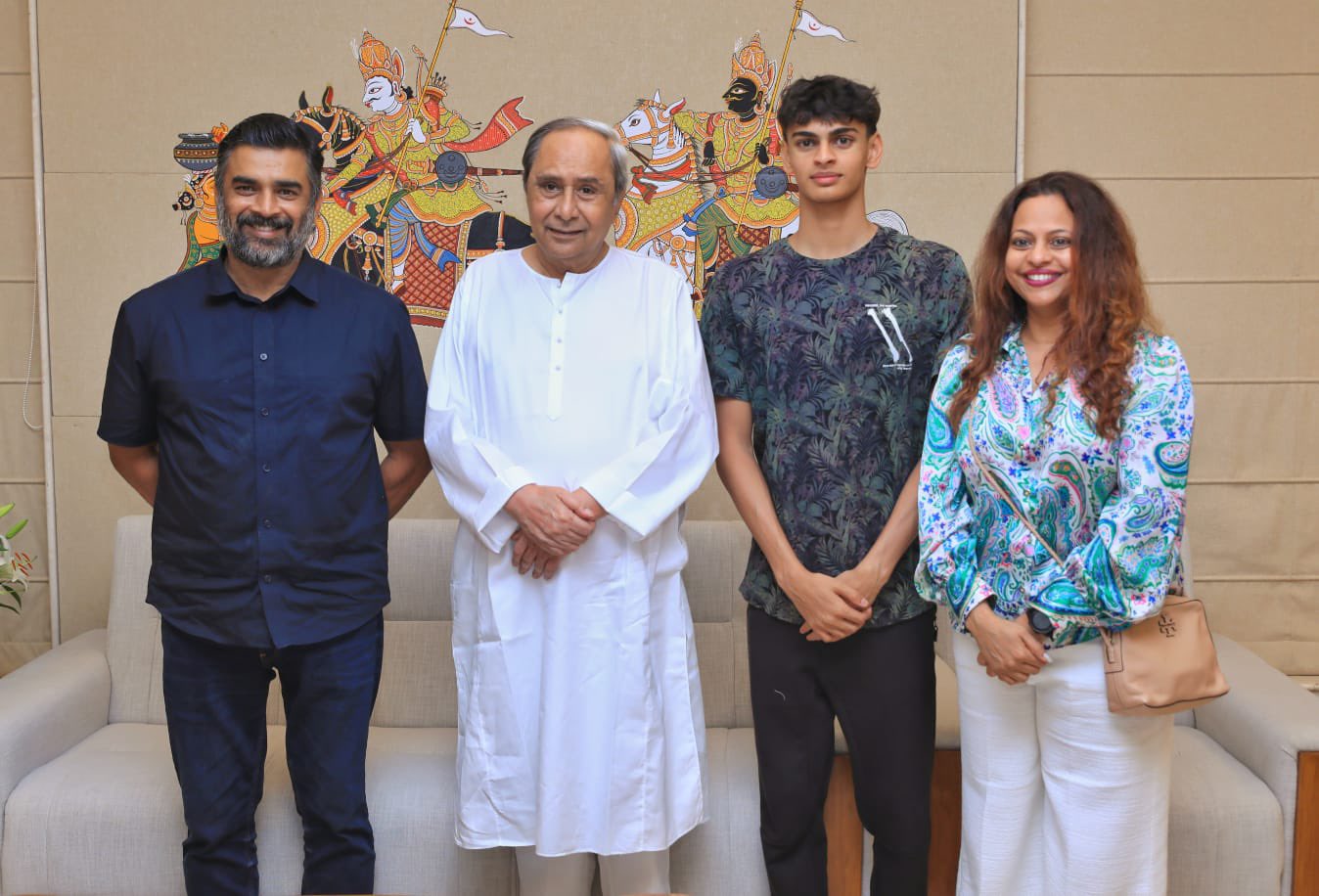 The CM congratulated Vedaant for the meet record and appreciated Madhavan's latest movie 'Rocketry: The Nambi Effect' based on the life of ISRO's rocket scientist S. Nambi Narayanan. Later, Madhavan offered to arrange a show for Naveen.
He also presented blue coloured jerseys that read 'Odisha-India's Best kept secret' to all three members of the Madhavan family.