5 Ways To Save Water While Washing Cars
Did you know that the average water used for washing a car is around 100-300 litres, according to Save Water Save Money, United Kingdom. Water is getting increasingly scarce and climate change is making it worse. Data from Central Ground Water Board (CGWB) shows that ground water levels in Bhubaneswar have fallen between 2006 and 2015. While the situation isn't as bad as Bangalore and certain other bigger cities where water tankers are the lifeline, data shows a similar crisis might befall Odisha's capital city unless water is carefully managed.
Here are a few tips which can help you save water while washing your two or four wheelers: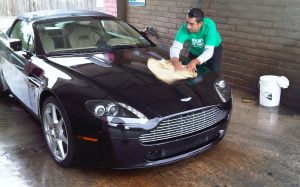 1. Dust off the vehicle before spraying water on it. Sometimes a simple dust off is good enough for your car to look clean. Keep your car covered to reduce the amount of dust falling on it.


2. Use a bucket instead of a continuous water flow from a hose. If you are using a hose, use one which has a spray handle that automatically shuts off the nozzle as you leave it. According to the Department of Environment, Maryland, USA, a 100 gallon car wash reduces to 30 gallons in such an arrangement. Pressurized flow if used judiciously is more efficient.


3. Drive-in car washes and other professional car washes often have a water recycling system which greatly reduces the amount of water used. They also use pressurized water.


4. Steam cleaning and 'dry wash' or 'waterless' cleaning techniques are getting increasingly popular in water stressed places. Maruti, Hyundai, Nissan and a few other manufacturers have introduced such greener car washing tech in their service centers. They use a type of foam that is sprayed on the car and then wiped out using a micro fiber cloth to leave a shiny surface behind. Nissan claims a decrease of 45% in water use compared to traditional car wash. Maruti says that this process takes around 20 minutes per wash as compared to 45 minutes for a conventional one.


5. At home, try to wash your vehicle over a garden where the run-off water can be absorbed and used. Make sure to use biodegradable cleaning shampoos. The Bangalore Water Supply and Sewerage Board advises people to use treated waste water instead of fresh water for washing cars.