Bhubaneswar: Torrential rain for the last two days has resulted in flood-like situation in the south Odisha districts.
In Malkangiri district, floodwater overflowing on bridges at Korukonda, Kankarkonda, MV-37, Pangam, MV-90, Kanyashram and Poteru has disrupted road communication to Andhra Pradesh, Chhattisgarh and Jeypore.


In Ganjam district, plight of the people of Berhampur city has become miserable as the rainwater has entered the houses in the low-lying areas.
Taking note of the heavy rainfall forecast, all government and private schools and Anganwadi centres in Ganjam and Malkangiri districts have been closed for a day.

In Rayagada district, Bansadhara river has been flowing at a height of 84.45 metres against the danger level at 83 metres at Gunupur. Road communication to three villages was disrupted after a bridge between Malisiripur and Biridiguda was swept away.
Besides, people of Gudari town are marooned with heavy rain disrupting road communication.


In Gajapati district, the floodwater of Bansadhara was flowing at a height of 55.40 metres against the danger level of 54.60 metres at Kasinagar. Due to flooding, 18 villages of Kasinagar block have been cut-off. The Andhra Pradesh government has opened 22 gates of the Gota barrage to release the floodwaters.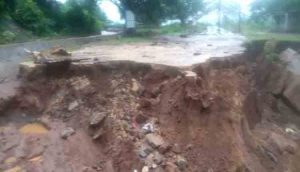 In Kandhamal district, a temporary diversion on NH-59 at Baliguda was swept away in flash floods. As a result, road communication from the district to Koraput, Kalahandi, Rayagada and Nabarangpur was disrupted. Besides, road communication between Phulbani and Berhampur was disrupted after an under-construction road on NH-157 at Kochilagarh was swept away.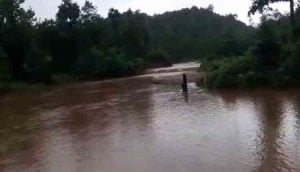 In Kalahandi district, a youth of Kathapura village in Thuamul-Rampur block was swept away in Petaphula river.
In Koraput district, the authorities of Machhkund dam opened 3 out of 8 gates to release 5000 cusecs of water per second after the water level of the dam reached 2588.03 feet, near the danger level at 2590 feet, this morning.
Informing the media on Wednesday, the authorities said they will open the remaining gates of the dam if the rainfall continues.