Fresh Low Pressure Over Andaman Sea Around Nov 29; Chill Returns To Odisha, Temp Below 20 Degree C At 20 Places
Bhubaneswar: A low-pressure area likely to form over the South Andaman sea around November 29, the India Meteorological Department (IMD), Bhubaneswar, said on Thursday.
It is likely to become more marked and move west-northwestwards in the subsequent 48 hours, it added.
The IMD:GFS model indicates that the system is likely to move towards Odisha and cross its coasts around December 3.
In its 'North Indian Ocean Extended Range Outlook for Cyclogenesis' issued last week, the MD had said that numerical models including IMD GFS, GEFS, NCUM, NEPS, ECMWF and ECMWF ensemble have forecast intensification of the low pressure into a higher category system (depression or above) over southeast Bay of Bengal and neighbourhood towards December 2.
Notably, the IMD, on Wednesday, had said that dry weather would prevail in the state till November 29. Shallow to moderate fog is also very likely to occur at a few places in coastal Odisha, Angul, Dhenkanal, Boudh, Kandhamal, Keonjhar and Mayurbhanj till 8.30 am on Friday (November 26).
Meanwhile, the mercury dripped to 13 degree Celsius in Daringbadi in the last 24 hours while Similiguda recorded a temperature of 14.7 degree Celsius.
Koraput and Titlagarh were cold at 16 degree Celsius, followed by Kirei (16.5), Koenjhar (17), Jharsuguda (18), Ranital (18), Deogarh (18.2), Bhawanipatna (18.2), Hirakud (18.4), Baripada (18.5), Sonepur (18.6), Chandbali (18.8) Boudh (19), Balasore (19.1) and Balangir (19.5).
Bhubaneswar also recorded 19.5 degree Celsius.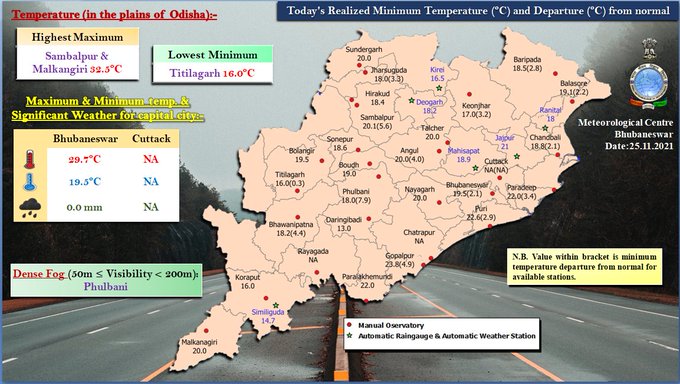 The MeT office had earlier said that the minimum temperature (night temperature) is very likely to fall by 3-5 degrees during the next 2-3 days.