Bhubaneswar: Gandhian Bhabani Charan Pattanayak is no more. A true-blue Gandhian, his death marked the end of an era on Thursday (May 14)
There was no corner that was left untouched by Gandhian philosophy, be it his mind, the space he lived in or the life he led.
In an interview with Odisha Bytes in 2019, the 98-year-old Bhabani Pattanayak had recalled the fight for freedom and how the Mahatma had then held sway over one and all. Excerpts: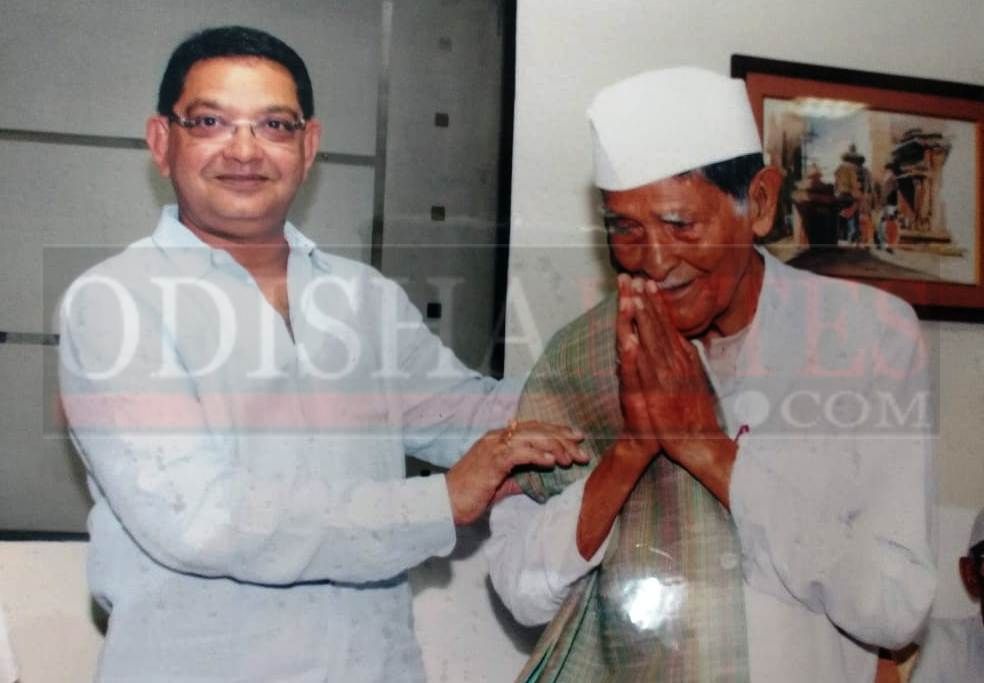 Born Revolutionary
He started young. At 10, he was beaten up for refusing to shout slogans hailing King George V. It was 1932 and on December 30, cultural programmes, rallies and events were organised in every school to observe the fourth anniversary of King George V's visit to India.
Everywhere people talked about Gandhi and his philosophy, and the little one found himself drawn to all that he encompassed. It was his thoughts that gave him the strength to take on the mighty British.
"Gandhiji did what he said and said what he did. There was little difference between his words and actions. That is what drew people to him," said this native of Nimapada in Puri district.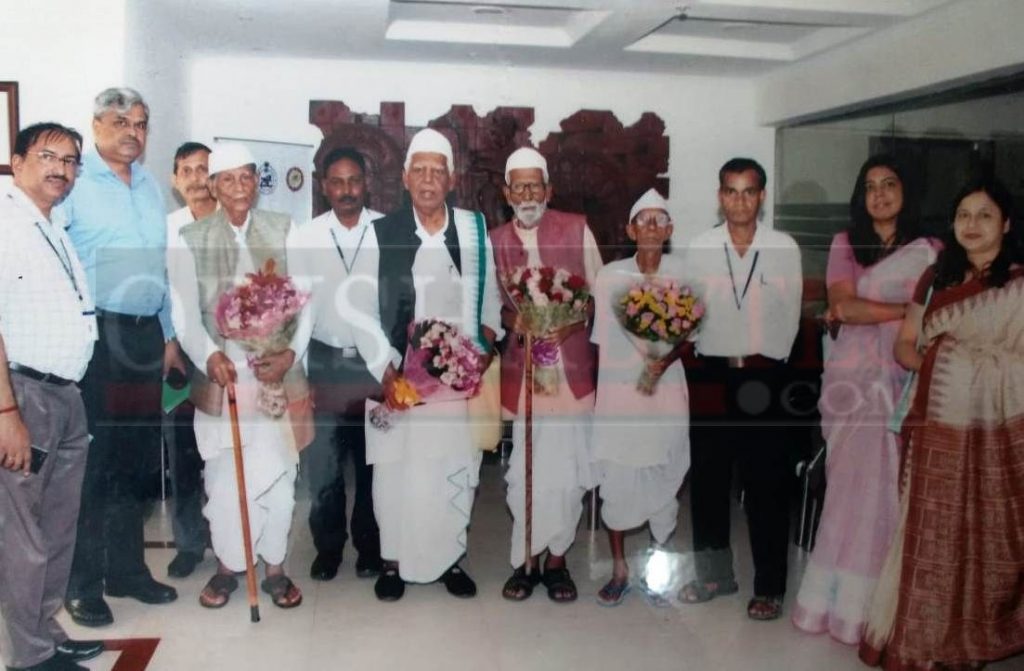 Growing with the Temperament
The inspiration stayed with him even in his teenage as he joined the Quit India Movement in 1942. Pattanayak was then studying in Class XI and to contribute to the revolution, he quit studies. The movement was spearheaded in Nimapada under the leadership of Mohan Das with Padmacharan Samantsinghara, Narahari Sahu and Lokanath Senapati supporting him.
"We had asked the policemen to quit their jobs and join the movement. They asked us for seven days, which made no sense to us. We wanted to unfurl the flag atop the police station. The police resorted to firing and one among us was killed. The incident left 29 injured," recalled Pattanayak.
Prior to that, the villagers had got a whiff of it and detained Pattanayak midway. They forcefully carried him back to the village. "The police came looking for me and arrested me along with several others on September 18. After a halt at Pipili, I was put behind the bars on September 20," he said.
Jail Breaks
The Gandhian spent three-and-a-half years in jail. "We had prayer meetings and spent time discussing Gandhi. He was omnipresent and continued to remain an inspiration," he said.
However, his jail life was no less eventful. He remembers making ropes from the mats given to them to sleep on. "We had helped two of our jail mates, Lokanath and Alekh, escape. A pyramid was formed and they were hoisted over the boundary wall. They climbed down to the other side using the ropes," he said. The jail authorities could not detect their absence for two days. "The headcount was done with the plates of food consumed and some of us would eat twice to hoodwink the authorities," he said.
This continued for two days before the breach was detected and the two were rearrested.
Pattanayak had himself once attempted to flee using the gap in the tiled roof. "We had seen pigeons entering through the gap, which was secured by an iron mesh. We had cut open the mesh and used the roped to climb the gap. However, we were spotted by some inmates and had to abort it," he said.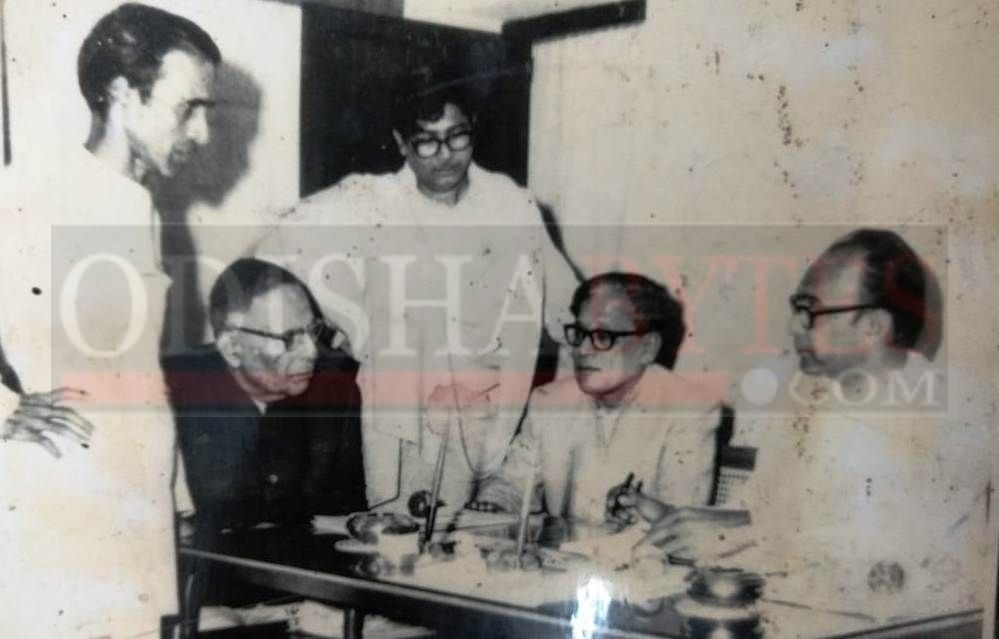 The Fight Continued
After spending most days in Puri jail, Pattanayak along with other inmates were shifted to Cuttack before being released.
After Indian gained Independence, he found his calling in the Congress and continued spreading awareness about Gandhi's ideology. He was in the Congress Seva Dal and served as OPCC secretary. He was elected to Rajya Sabha thrice from 1961 to 66, 1966 to 72 and 1978 to 84.
However, he did not enjoy his stint in Parliament. "I had my hands full with responsibilities in the state. I travelled across Odisha and enjoyed reaching out to people," he said.
He had sided with Moraji Desai when Congress bifurcated. "It was Jagannath Rao who introduced me to Indira Gandhi when Janaki babu (J B Patnaik) was the chief minister and I was back in the party fold," he said.

Resinga Sharecropper Movement
Pattanayak was greatly affected by the exploitation of farmers by the priests and authorities of Samaji Mutt. He requested the authorities to allow them rights over 'trees, fish and land'. Instead of paying heed to him, they snatched away the land from farmers where they worked as sharecroppers and instead engaged their own men to plough the fields.
The famers knocked the doors of court, but the Mutt authorities allegedly bribed the magistrate who pronounced them as the rightly owners. The landless farmers were now left with no means of livelihood. That was when Pattanayak decided to step in and travelled to Resinga to meet the farmers. Following a meeting, they decided to raid the fields with agricultural implements and bullocks the next morning. The Mutt authorities had deployed 'goondas' to scare them away. However, Pattanayak remained undeterred and started ploughing the field himself. "I knew nothing about farming, but was determined to show them their place. The farmers had to get their rights. As I ploughed on, the 'goondas' slowly made way for me and moved back. This emboldened the farmers, who joined in," he said.
The farmers again approached the court and this time, they got what was rightfully theirs.
Padmacharan Samantsinghara and Jaikrushna Mohanty helped Pattnaik in this fight, which he later took up at Baisi Batti.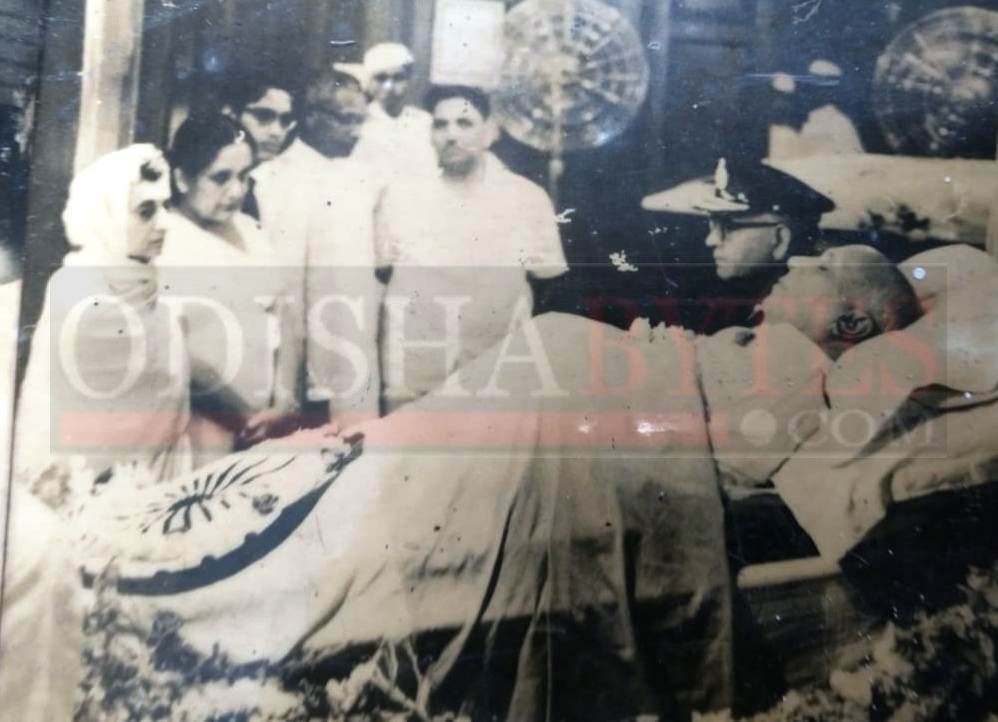 Other Influences in Life
If it was Gandhi's philosophy that moulded his personality, Utkalmani Gopabandhu Das' writings gave voice to the strength he embodied.
Pattanayak would often break into one of his poetry to put across the sentiments of that era, Gandhi and his fight against the British. Those have remained with him till date. "Gopabandu lived through his writings even after his death and these set the tone for the struggle in Odisha," he said.
Pattanayak said people often misunderstood Gandhi. He was never against Subhas Chandra Bose, but his means to achieve Independence troubled him. "Gandhiji opposed involvement of other countries in India's fight for freedom. He feared they would stake claim over it, which was not acceptable to him," he said.
The other leader Pattanayak greatly admired was Lal Bahadur Shastri. "I was attracted to his simplicity. He had a habit of talking to people during morning walks. I was present on one of those occasions. He had all ears for everyone," he said.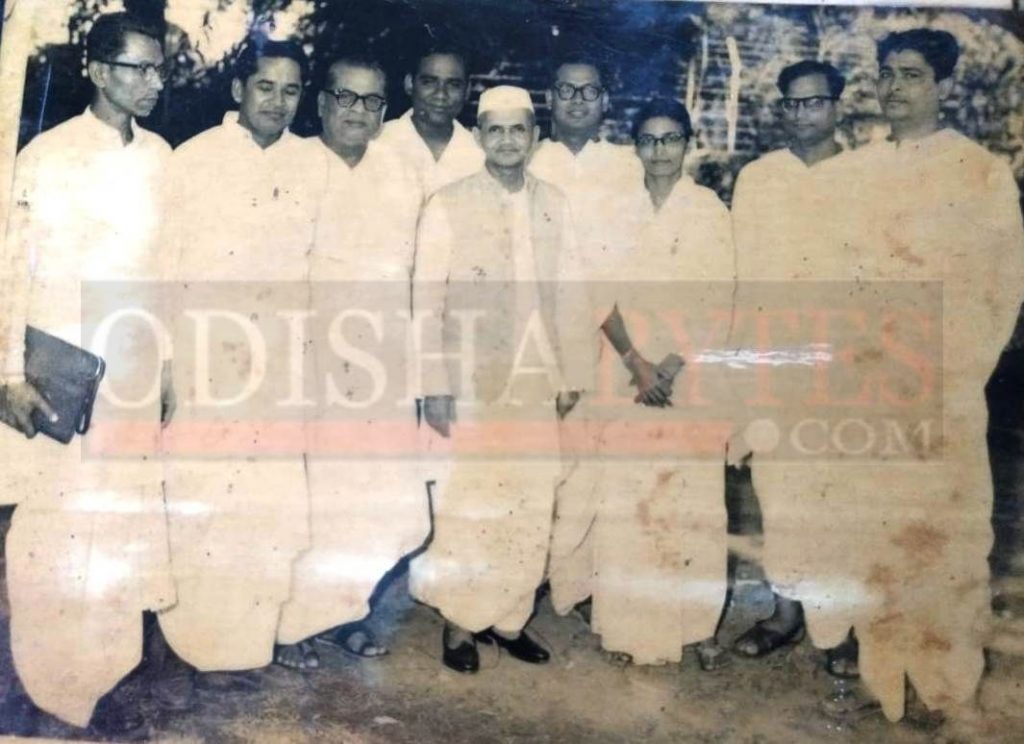 Keeping Busy
A Gandhian never retires! The relentless effort to spread the Mahatma's ideologies continues. Pattanayak had in the past spearheaded the anti-liquor movement in the state. He is currently serving as chairman of Kalinga Foundation Trust and secretary of Gopabandhu Daridra Narayan Seva Sangh. "Gandhiji had given Rs 3000 to start the Sangh and promote khadi in 1928-29," he said. Pattanayak was also the president of Ruchika Social Services Organization in the city that works with slum children.
Public life kept Pattanayak busy and he could not complete his studies. However, education was paramount to him and he had been credited with opening of schools and colleges in Nimapada. "My wife Basanta Manjari Pattnaik played a pivotal role in it. At one time, the women's college functioned from our house," he said. The couple also donated land for this purpose.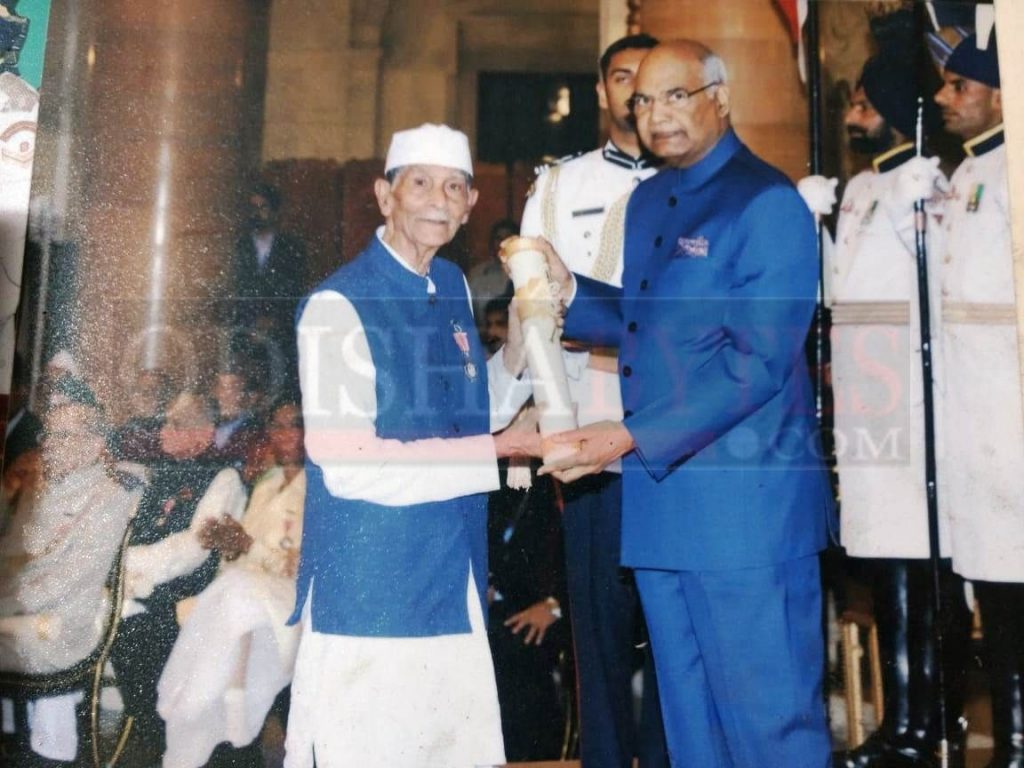 Awards and Rewards
The eminent freedom fighter received the fourth highest civilian award, Padma Shri, in 2019 for social service. His room is decked up with numerous awards that were conferred on him. "Being a freedom fighter and having got an opportunity to join the movement for India's Inpendence is the biggest reward. Everything else seems irrelevant," he said.
While refusing to comment on the current political scenario, Pattanayak said, "Now, the fight is more for power than the welfare of the country. I have nothing else to say."
The concern notwithstanding, he continued to live by Gandhi's philosophy of embracing one and all.