Bhubaneswar: Film personalities, singers, intellectuals, mediapersons and film lovers were transported to the golden era of Odia cinema at the inauguration of 'Geeti Chhaya' at State Museum here on Wednesday. The exhibition of rare photographs in black and white taken during the musical sittings and song recordings, showcased in an aesthetic manner by Film Journalist Forum in association with Culture Department and Government of Odisha, was a feast for the eyes.
Eminent flautist and music composer Pt Hariprasad Chaurasia was amazed to see such rare collection which refreshed his connection with Odia music.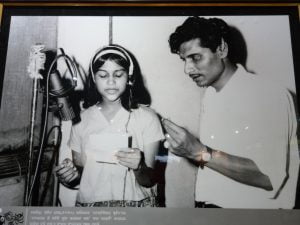 "I am so excited to see my photographs during recordings when I was a small girl. I literally walked down the memory lane with them," said nightingale of Odia music Trupti Das.
On display are photographs of legendary musicians Balakrushna Dash, Bhikari Bal, Nizam, Akshay Mohanty, Sikandar Alam, Kali Charan Patnaik, Shantanu Mohapatra and Raghunath Panigrahi along with that of Nirmala Mishra, Geeta Patnaik, Prasanta Nanda, Parbati Ghose, Sarat Pujari, Sabyasachi Mohaptra, Sibabrata Das, Anuradha Paudwal and Bhubaneswari Mishra.
Photograph of Lata Mangeshkar and Mohammad Rafi during the recordings of aji mu srabani….. and mayuri go tuma…..from the film 'Arundhati' was treasure trove for Odia cine industry.
"Music has always played an important role in cinema and credit goes to Surya Deo for bringing the efforts and contribution of the artistes to the fore through these pictures," said lyricist and author Devdas Chhotray.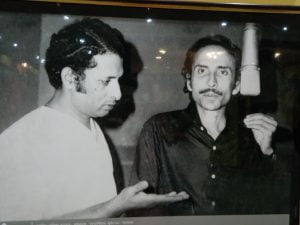 While Culture Minister Ashok Panda and Culture Secretary Manoranjan Panigrahi graced the occasion, Pranab Patnaik, Sabyasachi Mohapatra, Basanta Sahu and many other eminent personalities attended the opening ceremony.
The exhibition will continue till October 19.