Govt to spend Rs 600 cr on comprehensive eye care
Bhubaneswar: The state government is planning to spend over Rs 600 crore in the next five years to prevented curable vision-related problems and provide comprehensive eye care to people of all age groups, said chief minister Naveen Patnaik.
Launching the Universal Eye Health Programme on the occasion of World Sight Day on Thursday, the chief minister said,"Odisha is the first state to in the country to have formulated an Universal Eye Health Programme. Vision centres equipped with appropriate eye care facilities will be established across the state initially at all community health centres (CHCs) and later at public health centres (PHCs) or sub-centre level to cover the entire population. Requisite trained manpower will be made available to make this programme a success."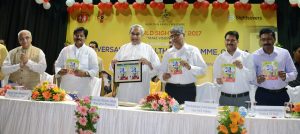 He said free operation facility and appropriate glasses will be provided in all cataract cases, which constitutes 80 percent burden of blindness in Odisha.
"Corneal blind people will be able to avail of transplantation surgeries free of cost. Massive screening programme will be undertaken to detect Diabetes Retinopathy and other serious eye problems and the patients will be provided free treatment at government hospitals. All school students will be screened for refractory error and other eye problems, and supplied spectacles free of cost at the school itself," he added.
Health minister Pratap Jena and other government officials were present.