Why A Century Is Not Enough For Birthday Boy Dada!
Today, 8th July, is the birthday of Sourav Ganguly ( Dada), one of India's best cricketers of all time and our inspirational former captain. On Dada's birthday, let us reminiscence his glorious career with a discussion on some high and low points.
While all probably know everything about Dada, let us still go on this nostalgia journey.
Debut century at Lords was a tremendous statement. Dada had been in the wilderness for 5 years. There were insinuations about him wanting to be treated as a Maharaja ( his nickname), which Sourav in his book "A Century Is Not Enough" has denied at length.  His recall to the Indian team was much criticised as well with even Kapil Dev saying that the selection committee and the Chairman, Gundappa Vishwanath, had been guilty of favouritism in selecting Sourav.
Dada was clearly on notice.
To add to the pressure, Sourav came in at 1 down with non-regular opener Nayan Mongia at the crease. Conditions were challenging, as evidenced by the wily Venkatesh Prasad claiming 5 wickets. However Dada rose to the occasion and scored a brilliant 131 to take India to safety. The other debutant, Rahul Dravid, who inexplicably came in at No. 7, had a super debut with 95.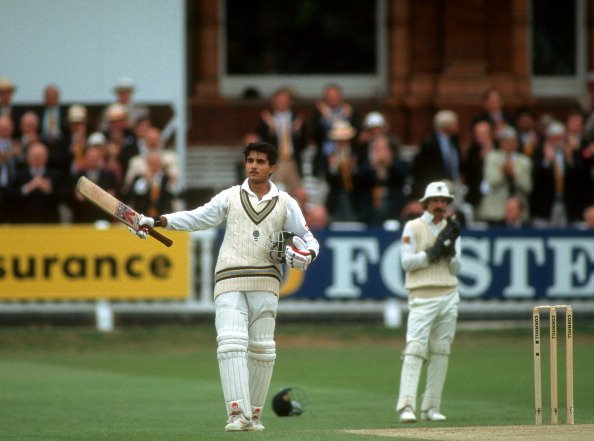 Dada followed up his debut ton with a 136 in his second test. A glorious career had started, and so also a terrific partnership with Dravid as well.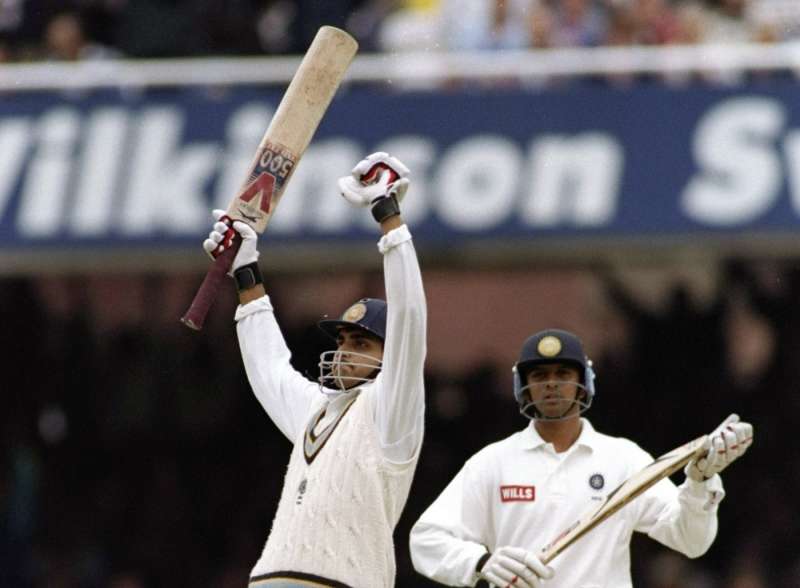 Making Steve Waugh wait for the toss is much talked about. Sourav says that the first time he did so he had forgotten his blazer and did not want the Indian captain to be seen at the toss only in whites, while the Aussie captain was formally dressed. However, when he saw that Waugh was getting irritated, he decided to repeat it. Waugh says, turning up late was a lack of respect for the game. Whatever, this incident showcases the streak of competitiveness in Dada, which was extremely important while playing the aggressive Aussies.
In that series, Sourav's young team defeated Australia at Eden (where VVS Laxman and Dravid had their epic partnership) to end Waugh's run of 16 Test wins in a row. India then won the test at Chennai to win the series 2-1, which is one of the most memorable moments for Indian cricket. Aussie coach John Buchanan said "Ganguly brought something to the Indian side that we undersold; a steeliness, a resolve, an arrogance; it does not matter who he is playing, he will compete".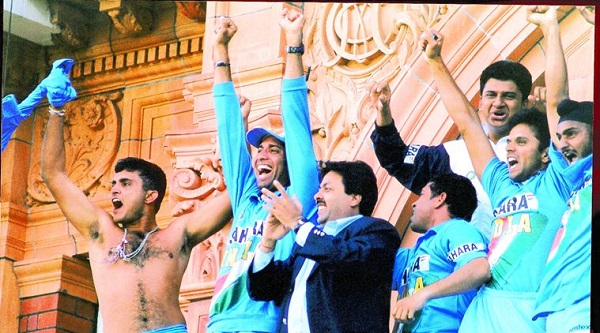 The Natwest series win of 2002, in which India came up triumphs from a seemingly dismal situation, is remembered for Dada's wild shirtless celebrations in which he took off his T-shirt and waved it exuberantly. In Mumbai, just months earlier, Andrew Flintoff had done the same when England had drawn the ODI series. Mark Nicholas says this act humiliated and also motivated Sourav, who repeated the same after Yuvraj and Kaif pulled off their Houdini act. As per Nicholas, "Sourav understood how Flintoff and England had affected his people in Mumbai, and judging his moment perfectly, threw it back to them at the cathedral of the game"
During his book launch, Dada said that VVS Laxman (whom he describes as the nicest guy around) tried to stop him from taking off his T-shirt while Harbhajan asked him "Dada, can i take off my T-shirt too?". Dada's book launch had him in conversation with Sachin Tendulkar and Rohit Sharma. Rohit said that he was just 14 and he and a group of classmates saw the victory on tv and all of them took off their T-shirts, copying Dada.
The 2003 World Cup could have given Sourav something which earlier Kapil Dev and later MS Dhoni would have – a World Cup win as captain. India, which had been written off, entered the finals versus Australia.
Sourav's decision to put the Aussies in is much debated, but apparently it had rained in the morning and Sourav felt the wicket was a bit damp. Unfortunately for team India, the sun came out and Aussies put up a huge 359, which was always going to be a world cup winning total – which it was, especially after man of the tournament Sachin departed early.
Sourav, however, displayed his leadership skills even in the loss. Throughout the tournament, before the match started, he and all players would sign a piece of paper in which was written "I CAN, WE CAN". After the defeat, he spoke like an army general to his troops, praised Sachin, who had an outstanding tournament, praised the bowlers for bringing the team to the final (even though they had been ordinary in the final) and made a special reference to Anil Kumble's support even though he had to take the tough decision of dropping Kumble for the final.
In fact, Dada has said that among the most difficult points of his captaincy career was choosing one among Kumble or Harbhajan for the playing 11, if both could not be played. He says that the dropped champion player would come to his room and question him at length, even though he was the team captain.
In his book launch, Sachin asked Sourav, "So Dada, century at Lords on debut, Test captain, CAB President. What next, BCCI President?". Dada adroitly ducked, saying that the way Justice Lodha Committee was making everyone ineligible, Sachin would be the only candidate who remained and he would have to take up the offer in the interest of Indian cricket.
In my personal view, Sourav would be a great BCCI President. Lets see what in future for our inspirational Captain.
Happy Birthday Dada.
[Reposted from here]