Heavy Rain, Flood Wreak Havoc In Interior Odisha
Bhubaneswar: Incessant and heavy rainfall in the last 48 hours has thrown life out of gear in interior Odisha.
Considering the situation, all education institutions Balangir, Nuapada, Bargarh and Kalahandi districts remained closed on Tuesday.


In Balangir district, more than 90 per cent low-lying areas in Balangir town and nearby places have been inundated. Considering the exigency, the ODRAF teams have been deployed to shift people to safer places.
In Gudvela block, floodwater of Khadanga river has entered several villages. More than 200 families of Jamuta, Dharuapada and Tilakmal villages have been marooned. Till reports last came in, block officials and the fire services personnel have rescued 10 families from these villages.
Bol Bom devotees had a providential escape after rainwater entered Harishankar temple following a landslide in the nearby hill on Monday afternoon.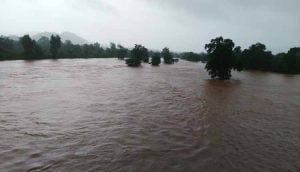 In Boudh district, flood threat looms large in Kantamal block following incessant rainfall. Several villages of the region were cut off after the water level in Tel and Khadang rivers crossed the danger level. As a result, road communication between Kantamal-Manmunda and Kantamal-Baliguda has been disrupted.
In Kandhamal district, road communication from Kandhamal to Kalahandi and Rayagada districts was disrupted after a temporary culvert at Bataguda in Baliguda block on NH-59 was washed away by the flash flood. Besides, road communication from the district to Koraput, Nabarangpur and Chhattisgarh has been disrupted after a diversion road on Gopalpur-Rayapur road of NH-59 was swept away by floodwaters.


According to reports,Rahula, Utei, Chauladhua, Khadaga and Pilasalunki rivers were flowing over the danger level.
In Kalahandi district, body of a man, who had gone missing in Petaphula river last Tuesday, was recovered from Indravati dam near Mahulpatna. The victim has been identified as Sena Majhi of Kathakhura village under Thuamul-Rampur block.
In another incident, a driver of a Tata Magic vehicle managed to escape as the vehicle while on the way to Madanpur-Rampur block from Baliguda was swept away by the strong river current of Kaliganga at Mohangiri.


In Karlamunda block, Jitu Rana, a cattle grazer, was swept away by the floodwater while trying to cross a nullah on Monday evening. Following information, a team of Fire Services personnel began the search operation on Tuesday morning.
Similar situation prevailed at Nuapada and Bargarh districts following extremely heavy rainfall since the last 48 hours.