Bhubaneswar: A team of 17 young probationers of the 2018 batch of Indian Administrative Service (IAS) from Lal Bahadur Shastri National Academy of Administration, visited the office of Bhubaneswar Smart City Limited (BSCL) and see some of the key projects of BSCL. The team is currently on a study tour cum Bharat darshan.
The young probationers were briefed about the various projects under Area Based Development, Pan City Programmes, making Bhubaneswar socially smart.
After the brief on various projects by General Manager BSCL Saroj Kumar Swain and Technology Officer Asit Rajhans, the probationers also saw the Bhubaneswar Operations Centre (BOC) or the command and control centre of the city. They also visited sites for gathering field experience at Adaptive Traffic Signalling System at Rupali Square, Smart Janpath near Sishu Bhawan Square, bus queue shelters, Public Bicycle Sharing (PBS) station near Sishu Bhawan Square and Mo Bus Service.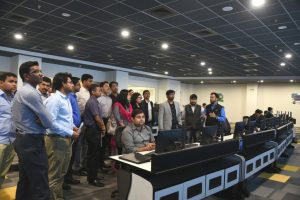 It may be mentioned here that every batch of the probationers goes on a 45-day-long study tour cum Bharat darshan from to gain field-level knowledge. The visit to Bhubaneswar will enable the team to gain knowledge on the Smart City project and study public-private partnership initiatives. The team will leave for Visakhapatnam on January 14.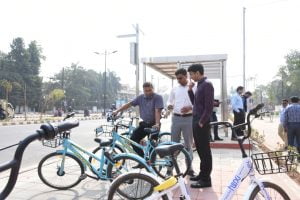 Ashutosh Dwidedi, from the visiting team termed the experience "interesting". In fact, the Smart City project proposal of the show was adjudged the best proposal in the Smart City Challenge as the proposal from Bhubaneswar was based on the unique concept of child-friendly design and implementation.
Kuldeep Meena and Mahendra Pal also expressed happiness over the progress of various projects across the state capital, which is known as the Temple City of India. The probationers also checked Mo Cycles at a PBS docking station near Sishu Bhawan Square.