Innovative Rakhis Make Their Way Into Odisha Markets
Bhubaneswar: Rakhi fervour is catching up in city markets with women thronging the various makeshift stalls as well as bigger shops. It is brisk business for shopkeepers who rely on this part of the year to make some extra moolah.
Shops have been set up in Kalpana Square, Ekamra Haat, Raj Mahal, CRP Square, Chandrasekharpur, VSS Nagar etc in the Odisha capital.
Different types of rakhis with embroidery work, sandalwood rakhis, stone and wood decorated rakhis are also available in the market. Specially designed Rakhis for children and adults are also available.
Rakhis For Women
Lumba rakhis for women are available in innovative designs. These are totally different from rakhis for men. They come with a feminine touch with hanging Jhumkas and bead strings attache to them. The price of these rakhis varies from Rs 50 to Rs 200 each.
Rakhis For Children
Different types of cartoon and rakhis with lights on them are available for the children. They are a big draw. Then there are rakhis with Doremon, Chota Bheem, Superman and Spiderman on them.
The price of these rakhis is in the range of Rs 10 and Rs 70. Those with a light are in the range of Rs 20 and Rs 100.
"People are really liking these rakhis," said Ghanashyam Sahoo, a shop owner in CRP Square.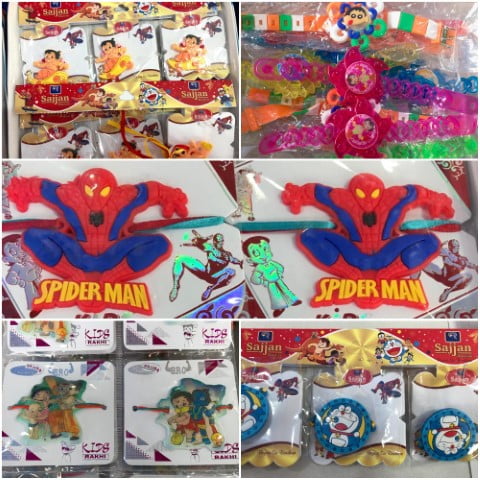 Rakhis For Men
The variety of rakhis for men are priced between Rs 5 and Rs 500. Rakhis with a stone are more in demand. Rakhis decorated with Rudraksh, Ganesh and Swastik symbol are also in demand.
Besides, rakhis, decorated with birds, flowers, Lord Ganesh, Devi Durga are also available in the market.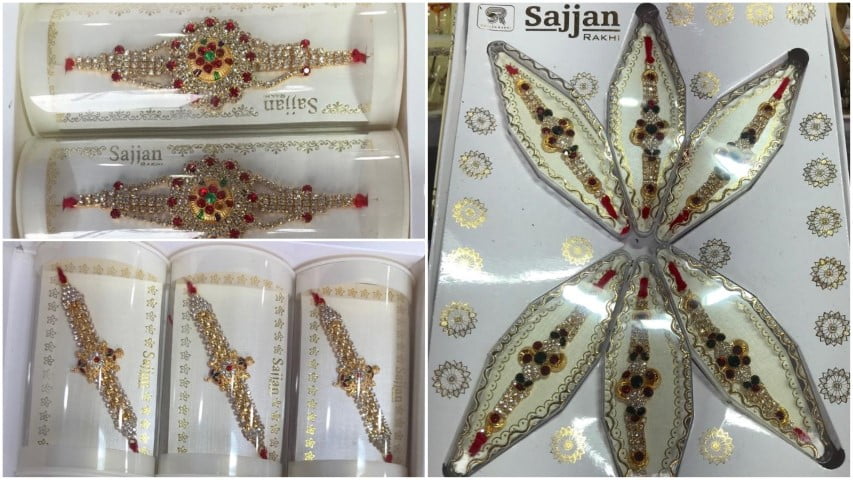 Rakhi Thali
Specially designed Thalis for puja are also available in the market. They are decorated with sandalwood, have a small packet of vermilion, some rice and sweets. The price of these Thalis is between Rs 100 and Rs 450.
Business has been a bit slow so far due to rain in comparison to last year, said Ghanashyam. The sale should pick up on the last day," he added.