Megastar Amitabh Bachchan is known to be a very organised person, with unbelievable discipline and punctuality. An interesting pointer to how organised the Shahenshah is can be seen from his tweets, which are numbered.
T 3246 was on August 4, all-time great singer Kishore Kumar's 90th birth anniversary. Amitabh tweeted that Kishore da "sang in more than 51 films, 130 songs, in more than 60 films that I acted in" and also that "3 out of 8 Best Male Playback Singer awards were songs he sang for me".
On Amitabh's birthday let us go on our trivia journey to explore the fascinating Amitabh-Kishore partnership.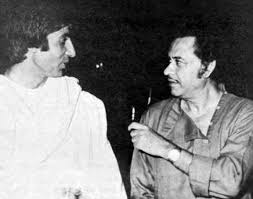 These three songs, which Kishore da sang for Amitabh for which the Best Male Playback Singer was awarded were "Manzilein apni jagah he" from Sharaabi, "Pag ghungroo bandh" from Namak Halaal and "Khaike paan banaraswala" from Don. Kishore da remains the most nominated singer at the Filmfare Awards with 41 nominations. He is also the most awarded male singer with 8 awards, followed by Mohd Rafi with 6 awards.
Amitabh and Kishore were "made for each other". Earlier, Kishore Kumar was the voice of Rajesh Khanna as well and romance was the genre to which the country swung to. Amitabh in Anand held his own against the reigning superstar and according to many analysts, outshone him in Namak Haraam. Then came blockbusters like Zanjeer and Deevaar and "the angry young man" had displaced the romantic hero to become the new superstar of the box office.
Kishore Kumar and his songs had an integral role to play in Amitabh's journey as a superstar. In this article, I have tried to identify just 10 songs from 10 movies, which I consider the best of Amitabh-Kishore Kumar. The task is extremely difficult and that makes it more challenging as well as memorable.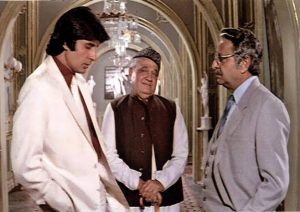 My 10 favourite Amitabh-Kishore songs are in no particular order.  I have also listed other Amitabh-Kishore songs in the same movie as well as associated trivia.
"Aaye tum yaad mujhe" from Mili is an iconic song. Amitabh is just super as he paces up and down, dressed in a simple kurta payjama. This song was the creative best of SD Burman. Mili has another Amitabh-Kishore classic, 'Badi sooni sooni", a song which was started by SD and completed by his illustrious son RD as his legendary father fell ill is also a super Amitabh-Kishore solo.
"Rote hue aate hai sab" from Muqaddar Ka Sikandar showcases Amitabh Bachchan as the ultimate alpha male, when he triumphantly rides his bike and signifies his attitude of gay abandon towards life. The words "Zindagi to bewafa hai, ek din thukraegi" shows Vinod Khanna standing at a bus stop listening to it. Later on, in Amitabh's death scene, he sings these words, in Rafi's voice. Rafi, the great friend he was of Kishore, wanted Kishore to sing it but the music directors wanted Rafi's voice, as probably they wanted the memory of Kishore-Amitabh and the bike song to remain forever.
The movie also has the terrific Kishore-Amitabh solo, "O saathi re, tere bina bhi kya jeena". The song starts with an Amitabh dialogue, which enhances the Amitabh-Kishore bonding. Amitabh simply gazes into the distance going back into the flashback of his childhood and in that itself shows how powerful an actor he is.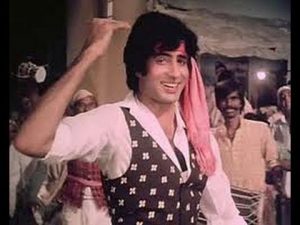 "Khaike paan banaraswala" from Don is a super song and it is evident how both Amitabh and Kishore enjoy themselves. "Arre deevaano mujhe pehchaano….. mein hoon Don" also symbolised Amitabh declaring his supremacy as the suave urbane gangster, while "ye hai mumbai nagariya" deliberately contrasted the rustic Amitabh.
Don was director Chandra Barot's only movie, though he reportedly had more than 50 offers after the movie's success. Originally, "Khaike paan banaraswala" was not there in the movie. It was added accepting the suggestion of Manoj Kumar. It turned out to be a masterstroke as initially the movie flopped but the song was a hit and it drew audiences to the theatres and ultimately made the movie a commercial success as well.
"My name is Anthony Gonzalves" from Amar, Akbar, Anthony was an amazing Amitabh-Kishore combo as well. Originally, the name Anthony Fernandes was thought of but it did not suit the song and then music director Pyarelalji gave the name of his violin teacher Gonzalves, which suited the song perfectly. The words "Sophisticated rhetorician intoxicated with the exuberance of your own verbosity,' were quoted from a speech given by Benjamin Disraeli in 1878.
"Chookar mer man ko" from Yaaraana also showed the soft side of Amitabh and is one of Kishore's best solos. Since Amitabh plays a singer in the movie there are as many as 4 other super solos of Kishore Kumar in the movie, namely "Bhole o Bhole", "Sara zamana", "Tere jaisa yaar kahaan" and "Tu rootha" and this is one of composer Rajesh Roshan's highlights of his career.
Sharaabi was one of the best movies of Amitabh Bachchan and Kishore Kumar played his part as well. Manzilein apni jaga hai was soulful while De de pyar de was boisterous. Jahaan Chaar yaar is one of the best Amitabh-Kishore male duets and one of the best friendship songs ever while Kishore-Asha excelled as well in "Inteha ho gayi", "Mujhe naulakhaa mangaade" and "Log kehtee hai mein sharaabi hoon". where the beautiful Jaya Prada complemented Amitabh so well. Sharaabi, like Yaaraana was of Rajesh Roshan's was one of the high points of Bappi Lahiri's career and the only movie for which Bappi da won best music award. Kishore da incredibly got all the five nominations for best male playback singer and won it for "Manzilein apni jagah hai."
An interesting titbit is that during the shooting, Amitabh had a hand injury as a bomb blew up in his hand during Diwali celebrations. Hence, he had to keep his hand in the pocket as it took a lot of time to heal and it would have delayed the movie. Ironically, that became a fashion statement.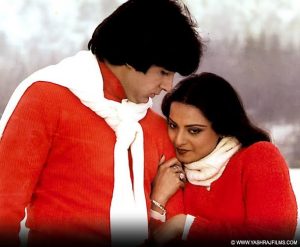 Silsila is in my list as it has one of the best ever Kishore-Lata and Amitabh-Rekha duets, "Dekha ek khwab" with lyrics by Javed Akhtar. The cinematography was magnificent as well and will always remain in memory.
In real life, Amitabh is younger to Shashi Kapoor by four years. However, Silsila is the only movie where Amitabh plays younger brother to Shashi Kapoor. In all their other movies, such as Deewar, Suhaag, Do aur do paanch and Namak Halaal Amitabh plays the role of the elder.
The musical genius of Amitabh Bachchan can be known from this rare trivia about the song Neela aasmaan. Amitabh and Shammi Kapoor had discussed a tune while shooting for Zameer but it was never used. He asked Shammi Kapoor about it during the making of Silsila whether he can use it and Shammi ji who had forgotten about is asked him to go ahead. The song "Rang barse' was the composition of his father Harivanshrai Bachchan and it was Amitabh who sang it and no Holi celebration is complete without this song.
Mr Natwarlal, like Silsila had an amazing Amitabh-Rekha and Kishore-Lata duet Pardesia . There are very few duets where both the male and female singer sing to perfection, matching each other and this is one such rare song. The movie saw Amitabh sing his first ever song in any movie, "Mere paas aao" which was a huge hit. The lyrics of both these songs were by Anand Bakshi who in a fit of inspiration wrote them in just an hour while enjoying his favourite paan and 555 ciggarette. The makers did not have money to pay him and he did it without any advance as well and later he was paid in instalments.
Bemisal, the last movie of legendary director Hrishikesh Mukherjee with Amitabh had the terrific Kishore song "Ek roz mein tadap kar" and also "Kisi baat pe mein kisi se' with the megastar at his smartest best. Kishore was also the voice for Amitabh in the terrific song "Kitni khoobsoorat ye tasveer hai" with Suresh Wadekar and Lataji giving the voices for the handsome Vinod Mehra and the pretty Raakhee who had replaced Rekha who was originally supposed to be in the movie.
Such was Amitabh's magnetism and charisma that only for being seen on screen with him for two songs ( Ek roz and kisi baat pe), Sheetal earned her name to fame and on that basis even wrote, acted, sang, directed and produced a couple of films after that.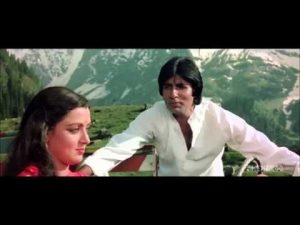 Satte pe Satta had some terrific Kishore songs for Amitabh with my favourite being Dilbar Mere where Amitabh transforms himself from a country bumpkin into a clean shaven bow tied suitor of the beautiful Hema Malini. Satte pe Satta's music was by RD Burman and awesome lyrics were by Gulshan Bawra. Other songs in the movie where Kishore was Amitabh's voice were "Dukki pe dukki ho", "Jhuka ke sar ko poocho", ""Pariyon ka mela hai", "Zindagi milke bitaenge" and the all time favorite "Pyar tumhein iss mod pe le aaya".
Satte pe Satta has one of the most iconic drunken scenes ever of Hindi cinema where Amitabh says "daaru peene se liver kharaab ho jaata hai". It also has one of Amitabh's most memorable roles in Babu, the grey eyed assassin with a golden heart.
These are my top 10Amitabh-Kishore songs. I am aware, of course that I have missed out on many such as songs from Abhimaan, Namak Halaal, Lawaaris, Kasme Vaade, Naseeb, Desh Premee, Hum and many many more films.
Do u agree with my choice of 10 or you would like to replace some of them?
Wishing the legend, a very happy birthday once again!