Bhubaneswar: Twenty-five-year-old Mohan Mahapatra, also known as Sai Ram Gandhi, travelled seven states of India on foot, spreading the message of Swachh Bharat Abhiyan.
He has taken it upon himself to fulfill this dream of Mahatma Gandhi.
With silver paint on his face and donning a Gandhi attire, Mohan walked across seven states, including Kolkata, Rajasthan, Haryana, Gujarat and Punjab.
He was felicitated for the 'Longest Journey by Road as Mahatma Gandhi' by the then Union Minister Rajyavardhan Singh Rathore in Jaipur, Rajasthan.
A student of theatre in Odisha, he had set out on a padayatra from Jagannath Temple in Puri on June 26, 2016.
"I was inspired by Gandhi's philosophy when I was in Class III. I am vary happy that my name is also Mohan. When I came to study in Sangeet Mahavidyalaya in Bhubaneswar, I started spreading Gandhi's philosophy here also," he said.
"When Prime Minister Narendra Modi launched 'Swachh Bharat Abhiyan' in 2014, I was inspired by him. Then with Mahatma Gandhi's philosophy, I started spreading the message on the need to keep out surrounding clean," he added.
Mohan, who played the role of Gandhi in his school days, is welcomed by selfies and smiles wherever he goes.
"My mission is to spread the message of 'Clean India, Peace India'," he added.
He has already met President Ram Nath Kovind. Some Union Ministers have also felicitated him.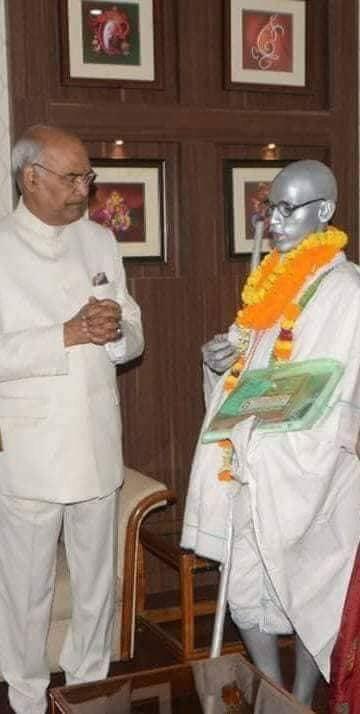 "My father, Arjuna Mohapatra passed away in 2018, when I was in Rajasthan. He was also a social worker. My mother is everything for me now," said Mohan.
"I am not doing any job now. Social work is everything for me. I am a die-hard fan of both Mahatma Gandhi and Narendra Modi," he said.
He wishes to take up a job in Swachh Bharat Abhiyan.
"I am not thinking about my future. I have an aim to groom the youth of Odisha and figure out how they will follow the footsteps of Mahatma Gandhi. I am not thinking about my bread and butter."
Odisha Governor, Chief Minister and the Prime Minister had also praised him for this noble work. Mohan is also thankful to Chief Minister Naveen Patnaik as he had helped him a lot with his studies.
Movie lovers will also get a chance to watch the inspiring story of Mohan. A poster of the movie 'Silver Gandhi' was released by MP Manoj Tiwari in New Delhi recently.
The movie is being directed by Avinash Nanda, also an Odia, and will be dubbed in six languages.