Low Pressure Forms Over Gangetic West Bengal, Heavy Rain Alert Of These Odisha Dists
Bhubaneswar: A low-pressure area was formed over southern parts of Gangetic West Bengal and neighbourhood on Tuesday morning, the Bhubaneswar Meteorological Centre informed.
The Met office has issued yellow warning (heavy rainfall) for one or two places in Bargarh, Jharsuguda, Sundargarh, Kalahandi, Balangir, Nuapada, Sonepur, Sambalpur and Deogarh till 8.30 am on Wednesday.
Earlier in the day, it had forecast light to moderate rain for some parts of Bargarh, Balangir, Sonepur, Boudh, Kandhamal, Deogarh, Balasore, Bhadrak, Kendrapada, Angul, Sambalpur, Cuttack (Including Cuttack city), Jagatsinghpur and Puri till 11.30 am.
Senior IMD scientist Umashankar Das said one more cyclonic circulation is also likely to form over east-central and adjoining northeast of the Bay of Bengal around September 25. The system is likely to move west-northwestwards and reach the Odisha coast in the subsequent 48 hours. Under its influence, the state is likely to experience a fresh spell of heavy rainfall from September 26, he added.
Also Read: Another Deep Depression In Bay To Reach Odisha Coast By Next Weekend
The centre also shared details of heavy rainfall recorded during the last 24 hours.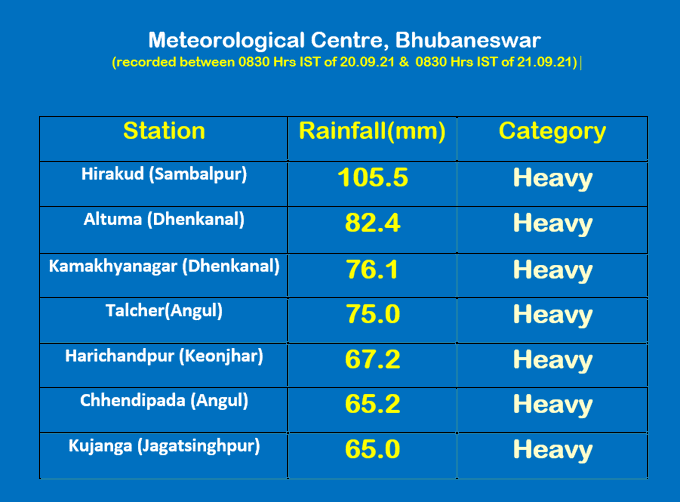 Several parts of Odisha have been experiencing light to moderate rainfall for the past couple of days under the influence of the cyclonic circulation over the Bay of Bengal.
Also Read: September To Get Wetter: Fresh Spell Of Heavy Rain In Odisha From This Date!