Bhubaneswar: Odias across the globe have flooded social media with Raja wishes.
Many, including former Kendrapara MP Baijayant Panda, stressed on how the festival needs to be pronounced right. "As i point out to non Odia friends every year, it is pronounced raw-jaw, & not raja (as in the Hindi for king), nor the abominable rajo, as spelled by some."
Others raised concern over dwindling green cover in Odisha. In a picture posted on Facebook, a man is seen looking for a tree to tie a swing for his daughter, only to be told that the last one is full.
The state lost over 10 million trees in cyclone Fani.
In such a scenario, Patrapada in Bhubaneswar comes as a ray of hope. A plantation drive is on here with Simulia saplings being sown on around 14 acres since 1991-92 and swings put up every Raja since 2011.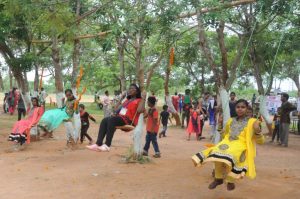 In 2017, girls were treated to 121 swings and the figure crossed 150 the following year.
People from Patrapada, Sijua, Dumduma, Khordha, Bhubaneswar and Cuttack come here to celebrate the occasion.