Bhubaneswar: The city-based Mo Bus service transported 101881 passengers on Sunday, crossing the 1 lakh mark for the first time.
"In the month of May, our ridership was around 33,000 and the revenue also came
down to Rs 5 lakh. But consistent efforts led to rise in ridership and revenue in
September with a daily average of 80,000 passengers and Rs 11.6 lakh in earnings," said Dipti Mahapatro, General Manager, Personnel and Administration & spokesperson, Capital Region Urban Transport (CRUT).
The amendment in the Motor Vehicle Act led to a sudden rise in ridership touching around 97,000 passengers on September 6 and around 94,000 on September 8. The momentum has, however, not fallen.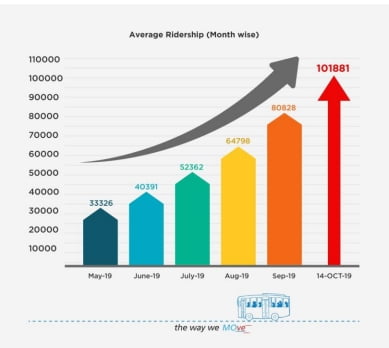 Mo Bus, which started last year, has established itself as a major mass transportation service in the twin-cities of Cuttack and Bhubaneswar. It has a fleet of 200 buses. Officials have said that another 50 old buses will be added after they are refurbished.
50 electric buses have also been sanctioned by the Department of Heavy Industry under FAME India scheme phase II for intra-city and intercity operations, according to media reports.
Also Read: Mo Bus: Affordable Or Expensive?