Mo Bus To Ply Between Sikharchandi & Lingpur From Tomorrow
Bhubaneswar:Mo Bus service will be made operational on Route no. 11, connecting Sikharchandi Vihar to Lingipur, from Friday. A total of 21 buses will ply on this route from 6 am to 10 pm.
The buses, originating from Sikharchandi Vihar, will cover a stretch of 20 km via Master Canteen. This is one of the major culture and heritage corridors in Bhubaneswar, and 'Mo Bus' services will link citizens and tourists alike to famed heritage monuments and sites such as Lingaraj Temple, Kedar Gouri Temple and Sisupalgarh.

There are a total of 49 stops, the major ones being Infocity, Sailashree Vihar, Acharya Vihar, VaniVihar, Satyanagar, Master Canteen, Kalpana, Ravi Talkies and Samantarapur. Prominent medical institutions like KIMS, Kalinga Hospital, and Apollo Hospital also fall on this route.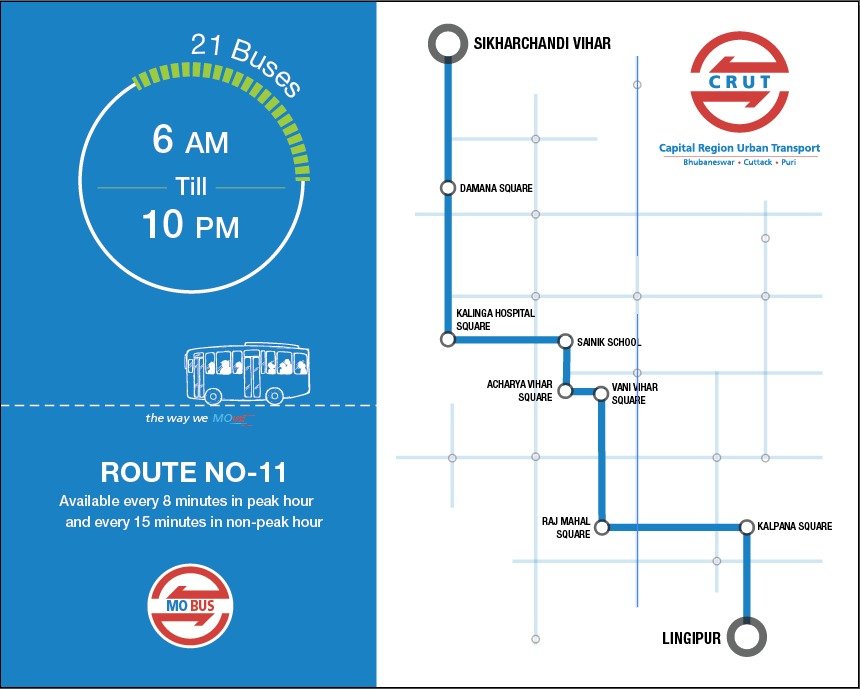 The frequency of buses during peak hours will be eight minutes and 15 minutes during other times of the day.
Route no. 10, connecting Nandankanan to the airport became operational with 20 MO BUS vehicles in mid-November. This route will soon be extended up to Cuttack. With the arrival of more buses, the rest of the routes will be opened shortly for riders in and around Bhubaneswar.
'Mo Bus System' was successfully launched earlier this month and is already ferrying 32,000 passengers every day.