More Of Odisha At Cannes With 'Antardhwani'
Bhubaneswar: Cannes Film Festival is making headlines every day with Indian actors making heads turn with their looks on the red carpet. Odias, too, have more than one reason to cheer.
Two movies by Odia filmmakers have been selected for screening at the prestigious festival being held from My 14 to 25. They are Sisir Kumar Sahu for his short film Swahaa and Rajesh Kumar Mohanty, who has produced Antardhwani.
Antardhwani, produced under the banner of 24FPS Entertainment, has been directed by National Award-winning cinematographer-filmmaker Apurba Kishore Bir and has Delhi-based Odia model-turned-actress Swapna Pati in the lead role.
"This is a proud moment for me. The film has been made in natural light. The uniqueness of the movie is that forests and its environment have played a key role in the movie," Mohanty said.
"The film is about a young mind's response to an unlawful activity, which gradually turns it towards crime. Then begins the journey of introspection and deep realisation," he said, adding that the film was shot in Odisha, Uttarakhand and Mumbai.
The other star cast includes Gourb Paswala and Talwinder Singh.
Swahaa has earned a special nomination for screening at the 72th Cannes Film Festival Short Film Corner 2019. It will be screened on May 23.
The 25-minute short film revolves around two poets of different generations and how they come close despite their difference in their ideologies, for good literary interactions. It has Suresh Mishra, who has also penned the screenplay and dialogues, Subhasmita Rath and Pallavi Barbie in lead roles. The film has been produced by Pradeep Sahoo.
This is Sahu's third short film after Roja and Farchaa (Dawn), which was screened at 19th MAMI Mumbai Film Festival in large short film category and 23rd Kolkata International Film Festival.
An alumnus of Biju Patnaik Film and Television Institute of Odisha, the 31-year-old had earlier assisted director Ashutosh Gowariker in his film Mohenjo Daro. He has also worked with eminent Indian film directors like Shyam Benegal and Dr. Chandra Prakesh Diwedi.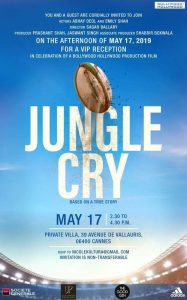 Another Odisha Connect
A third movie with an Odisha connect at Cannes is Jungle Cry, which follows the lives of 12 underprivileged children from the Kalinga Institute of Social Sciences in Odisha and their triumphant journey to the International Junior Rugby Tournament held in England in 2007.
Its director Sagar Ballary is known for his films Bheja Fry, Bheja Fry 2 and Bhatukli (Marathi). Producer Prashant Shah has 25 years' experience in the media and entertainment industry, as a strategic and creative lead in production, distribution and exhibition, as well as an actor.