Now, Odisha's Chhenapoda In Peelable Vacuum Packs
Puri: By some quirk, unlike Odisha's culture and handicrafts, Odia cuisine has not found the place it deserves nationally and internationally. However, all that is set to change now with the launch of Odisha's quintessential Chhenapoda on National Milk Day, marking the birth anniversary of Dr Verghese Kurien.
The product, honouring Dr Kurien was launched through a beautiful sand art created by well-known sand artist Sudarsan Pattnaik – showcasing the amalgamation of best-in-class art and food innovation from Odisha.
Dairy major, Milk Mantra has forayed into the dairy dessert category by launching Chhenapodá in an innovative and attractive packaging.
Milk Mantra's Head of Sales and Marketing, Swayam Prakash Misra said India has treasured several culinary secrets for ages and its unique traditional desserts have always been a revelation to the world. "Chhenapoda from Odisha is equally unique and we are very proud of it. Odias carry it as a gift when they travel. However, due to poor packaging and hygiene, the true taste of Chhenapoda is compromised. With our packaging innovation, perfect taste and attractive design, we are confident that Milky Moo Chhenapoda will be loved by everyone. We plan to take this delightful dessert of Odisha to major cities," Misra added. They have already aligned the distribution channels to take Chhenapodá across Eastern India.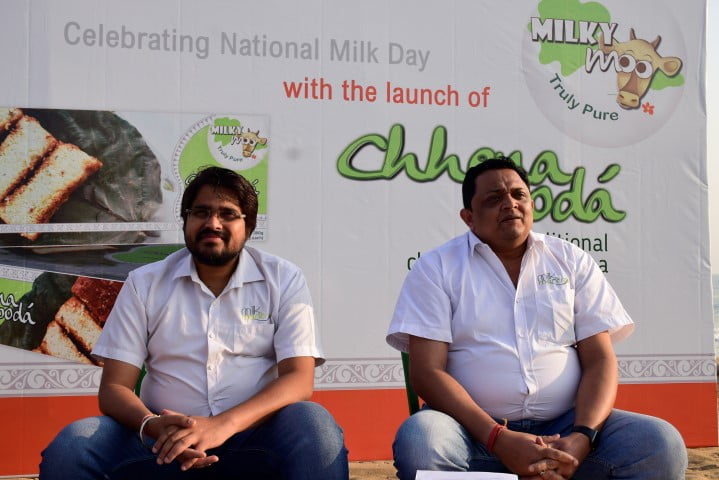 Head of Quality and NPD, Milk Mantra, Debashish Mohanty said Milky Moo Chhenapodá is made from ethically sourced Truly Pure milk "and with its packaging innovation, the fresh taste is retained by its individual peelable vacuum packs." "Even without any preservatives, it has an extended shelf life of 15 days because of this," he added.
Milky Moo Chhenapodá has been crafted for the contemporary consumers, while preserving the traditional method of baking soft cottage wrapped in Sal leaves. It is processed in its state-of-the art plant at Gop, Puri. It is low in sugar and has lesser semolina or suji in comparison to the other variants available in the market, making it a better option for today's calorie and health conscious individuals.

With an attractive pack that has Odisha art on it, it also makes it an ideal gift showcasing Odisha, Misra added.

Apart from fresh milk, the company produces a range of functionally innovative and premium dairy products including fortified milk, pro-biotic dahi, increased shelf-life paneer, Mooshake, curcumin-based milk-shakes, fruit–dairy product innovations like Milky Moo Litchi Lassi and Milky Moo Aam Dahi. These products are available across Odisha, Kolkata, Jharkhand and Chattisgarh.