Odisha: BJD Betters Its 2019 Performance In Pipili Bypoll; Winning Margin 20916
Puri: The counting of votes has ended and the BJD has won the Pipili Bypoll by 20,916 votes (EVM plus postal votes).
In 2019, the winning margin was 15,787 votes. The BJD had crossed this figure after 15 rounds of counting itself this time.
According to official sources, Rudra Pratap Maharathy of BJD received 96,972 votes and BJP's Ashrit Pattanayak secured 76,056 votes after Round 25 (the last round of counting). Congress' Bishwokeshan Harichandan Mohapatra got 4,261 votes.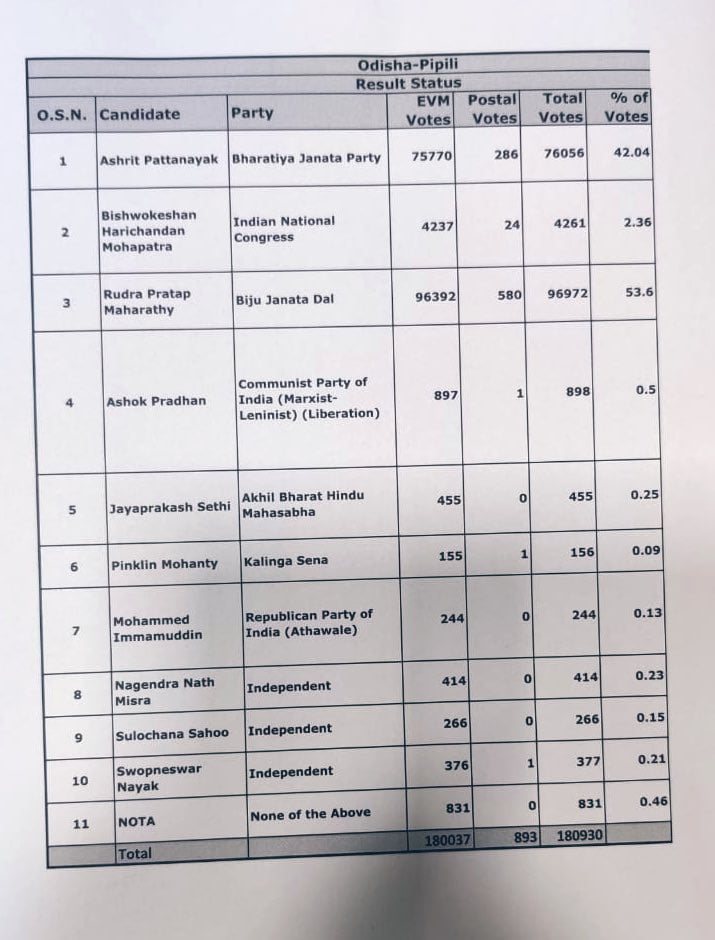 The BJD has increased its vote share by 3 per cent in this bypoll necessitated by the death of its strongman Pradeep Maharathy in October 2020. While the vote share for the regional party was 53.6 per cent, BJP got 42.04 per cent votes and Congress 2.36 per cent.
Meanwhile, BJD president Naveen Patnaik tweeted to thank the people of Pipili for supporting the party in the bypoll.
ବିଧାନସଭା ଉପ ନିର୍ବାଚନରେ @bjd_odisha ର ପ୍ରାର୍ଥୀ ରୁଦ୍ର ପ୍ରତାପ ମହାରଥୀଙ୍କୁ ବିପୁଳ ଜନସମର୍ଥନ ଦେଇଥିବାରୁ ପିପିଲିବାସୀଙ୍କୁ ଆନ୍ତରିକ ଧନ୍ୟବାଦ ଜଣାଉଛି। ଏଥିସହ ଦଳର ସମସ୍ତ କର୍ମୀ ଓ ନେତୃବୃନ୍ଦଙ୍କୁ ମୋର ଶୁଭେଚ୍ଛା। ବିଜୁ ଜନତା ଦଳ ଆପଣମାନଙ୍କର ଦଳ। ଆପଣମାନଙ୍କ ସେବାରେ ଆମେ ସର୍ବଦା ସମର୍ପିତ। #BJDWinsHearts

— Naveen Patnaik (@Naveen_Odisha) October 3, 2021