Odisha COVID Death: 44-Yr-Old Woman From Puri Succumbs
Bhubaneswar: Amid a further dip in fresh COVID cases, Odisha reported another death due to the disease, taking the toll to 9,129 on Monday
The deceased has been identified as a 44-year-old woman from Puri district. She was suffering from chronic liver disease and peptic ulcers.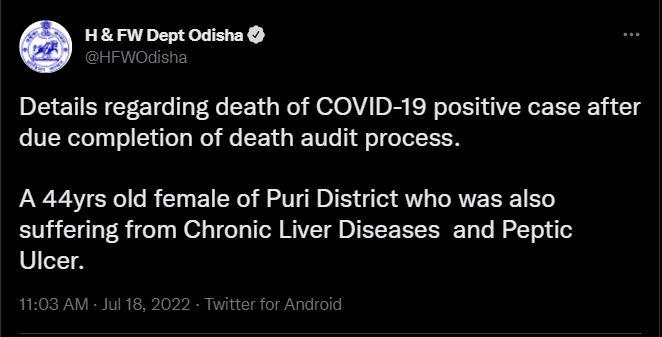 The state had reported a COVID death with a 21-year-old youth succumbing to the virus on Saturday, the third fatality last week and the second in two consecutive days.
Also Read: Another Person Succumbs To COVID In Odisha; Jajpur Youth Third Victim In A Week
On Friday, an 82-year-old resident of Sundargarh died of COVID while a 78-year-old man succumbed to the disease in Bhubaneswar on Tuesday. The state had registered its last coronavirus fatality on May 2 when two persons died.