National Handloom Day: From Bomkai To Khandua, Know Odisha Textile With GI Recognition
Bhubaneswar: Handlooms play a significant role in Odia households. These are treated as heirlooms and passed on from one generation to another. Eight such handloom products from the state have got the Geographical Indications (GI) tag.
Let us celebrate these works of art and the hard labour of our weavers on National Handloom Day.
Odisha Ikat

Ikat is weaved in several parts of the country but Odisha seems to have pretty much mastered the Ikat art of weaving. The weavers belonging to Meher or Bhulia communities strive to bring the rich culture to life in their Ikats with their unique resist-dying technique in which the patterns are dyed and bound in threads to create the design on the loom prior to weaving. The process is often termed as 'poetry on the loom'.
Khandua Saree and Fabrics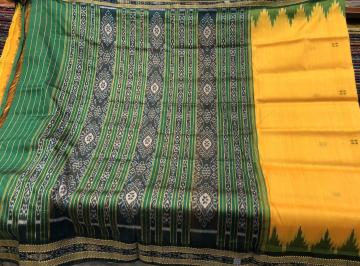 Weaver communities of Maniabandha and Nuapatana of Cuttack traditionally created this kind of sarees. Also referred to as Maniabandi or Kataki, it is a traditional 'bandha' or Ikat sarees. It is closely associated with Lord Jagannath Temple rituals at Puri. The Lord is wrapped in Khandua patta. During the rule of Gajapatis, these were transported to the Srimandir. Originally designed using red, yellow, maroon, and cream colours, they contain texts from the Gita Govinda.
Gopalpur Tussar Fabrics
Gopalpur village in Jajpur district is famous for producing Tussar fabrics. It received the GI tag in 2009. The art of weaving tussar fabrics in the Gopalpur cluster is about 400 years old and linked with the great saint Shri Chaitanya. The fabrics are designed in tussar and gheecha and enhanced with an extra weft technique. The weavers use hand-spun and hand reeled yarns.
Bomkai Saree & Fabrics
The Bhulia community of Sonepur district primarily produced this kind of embroidered saree. It originated in the village of Bomkai in Ganjam district and was introduced in Sonepur, during the time of the then ruler of Patna Ramai Dev. Such Bomkai sarees come with buti and temple borders.
Berhampur Phoda Kumbha Saree & Joda

It is unique due to its typical Odissi style of weaving and kumbha, particularly phoda (temple-type design). The weaving technique is said to have originated over 200 years ago. These sarees were earlier to southeast Asia and other countries from Gopalpur port.
Sambalpuri Bandha Saree & Fabrics

Sambalpuri sarees incorporate traditional motifs like shankha (shell), chakra (wheel), phula (flower) in red, black and white. Sambalpuri fabrics reflect an original style of craft known as bandha. Artisans create bandhas with images of flora/fauna/geometrical patterns.
Kotpad Handloom Fabrics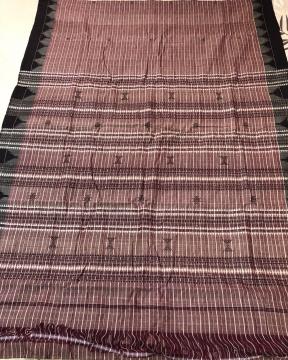 A vegetable-dyed fabric, it is woven by the tribals of Mirgan community of Kotpad village in Koraput district. It is the first item from Odisha that received the GI tag. Traditionally, the colours for this cotton textile used to be made from organic sources.
Habaspuri Saree & Fabrics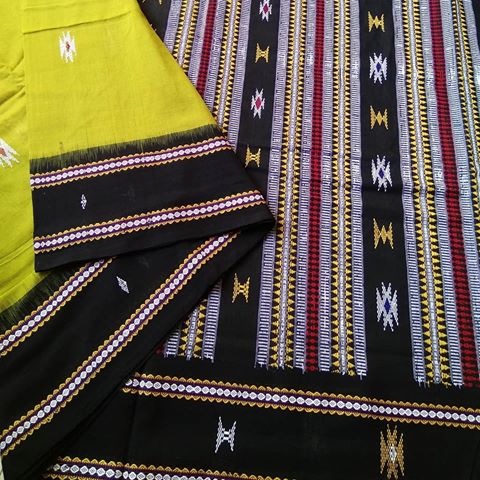 Habaspuri handloom is named after the village of Habaspur in Kalahandi district where it was originally woven in 19 CE. Drawing inspiration from nature, the weavers use motifs of flowers and fish, on the cotton saree.